The southwest landscape (of the USA) feels like you are out of this world, especially Nevada! It's so amazing what lava, water, wind, and God did to create such a magnificent area of land. It really does feel /look like what I imagine another part of the universe to look like!
There is so much to see in this world, but honestly, right here in the USA, there really is such a diverse amount of beauty to take in and appreciate. Traveling within the US is like a relationship, it's close enough for you to nurture it, develop it, and spend quality time with it!
Utah is one of the most beautiful states. I used to frequently visit Salt Lake and the surrounding areas for work. There are so many national parks, so it's a state that we definitely plan to re-visit. We decided on Zion and Bryce Canyon for this trip. I've heard so many cool things about both, but the one I was most excited about was Bryce. The one that I ended up falling in love with after it was all said and done, was Zion National Park. It is INCREDIBLE! I think it is now at the top of my list of national parks. Las Vegas is closer to distance to the parks than Salt Lake and we got a really good flight deal (under $100 each way from Houston Hobby on Southwest). We went in June, which was not as bad as I expected, temperature-wise.
We decided to stay in Cedar City, Utah for the time that we were visiting the parks and then we wrapped it up for the final night in Vegas. Cedar City is a cute town, beautiful mountain views, the most AMAZING Peruvian restaurant, but it was a good drive to both parks. I think if we could do it again, we would stay close to one park, then commute, preferably Zion National Park. In terms of miles, Cedar City is close, but in terms of the actual drive time (I guess due to the mountains), it is a couple hours to both.
Zion National Park is a place where you can spend days, easily, even without having the ability to do all the trails. There is something for everyone, including wheelchair/stroller friendly trails - Riverside Walk and Lower Pool of Emerald Pools. My favorite of the 2 is Riverside Walk. You look up and there's the most gorgeous rocks I've ever seen, plus lush greenery all around, and then crystal clear baby blue water. It is an easy walk with a paved trail. You can continue past this one and do the Narrows, but you will need water boots, and it is probably better suited for adults/older kids. I am coming back for it!!! To back track a bit, as you approach the park, there is a whole zion national park village full of shops, dining, trading posts, and hotels/lodging. We dined at an excellent pizza/thai place. Such a strange combo. You can park and catch a shuttle to each trail in the park, it is very well structured, and an easy to navigate park system. The boys just loved the freedom of being able to run around. We even saw a few animals. The only bummer part, is that there is terrible cell phone reception. We even tried the hotel, but even there the WiFI was spotty. I am including several pictures for your viewing pleasure!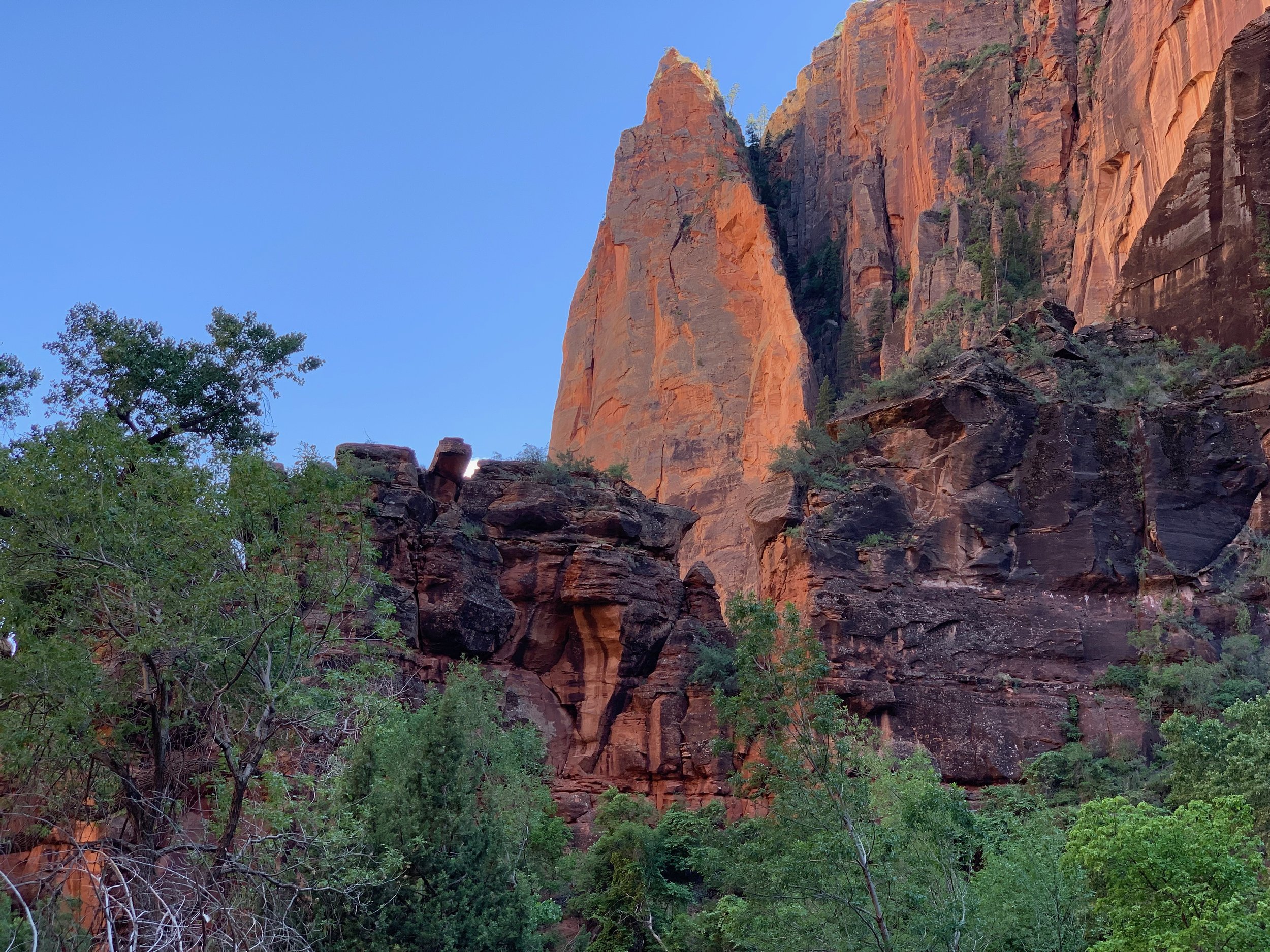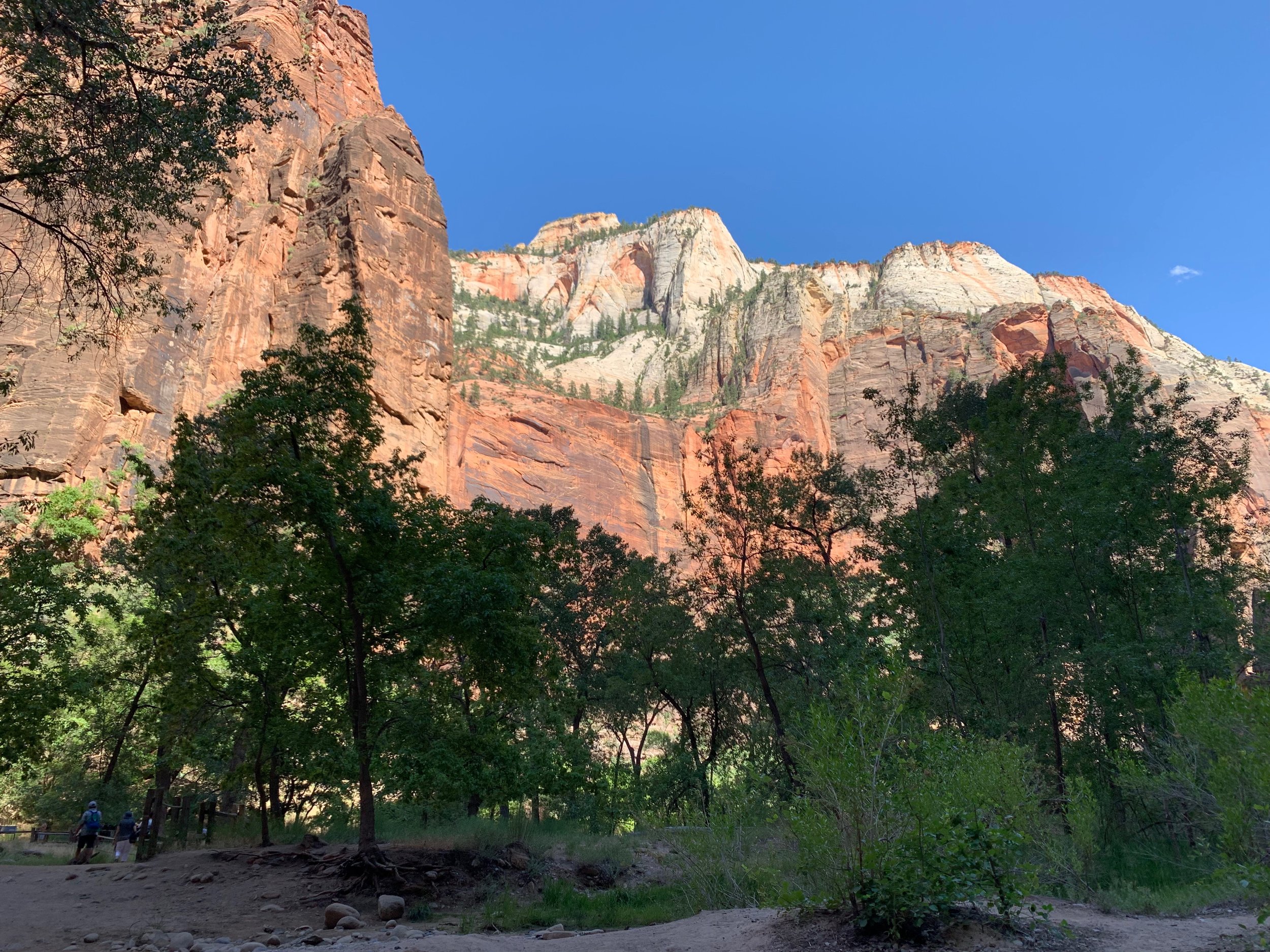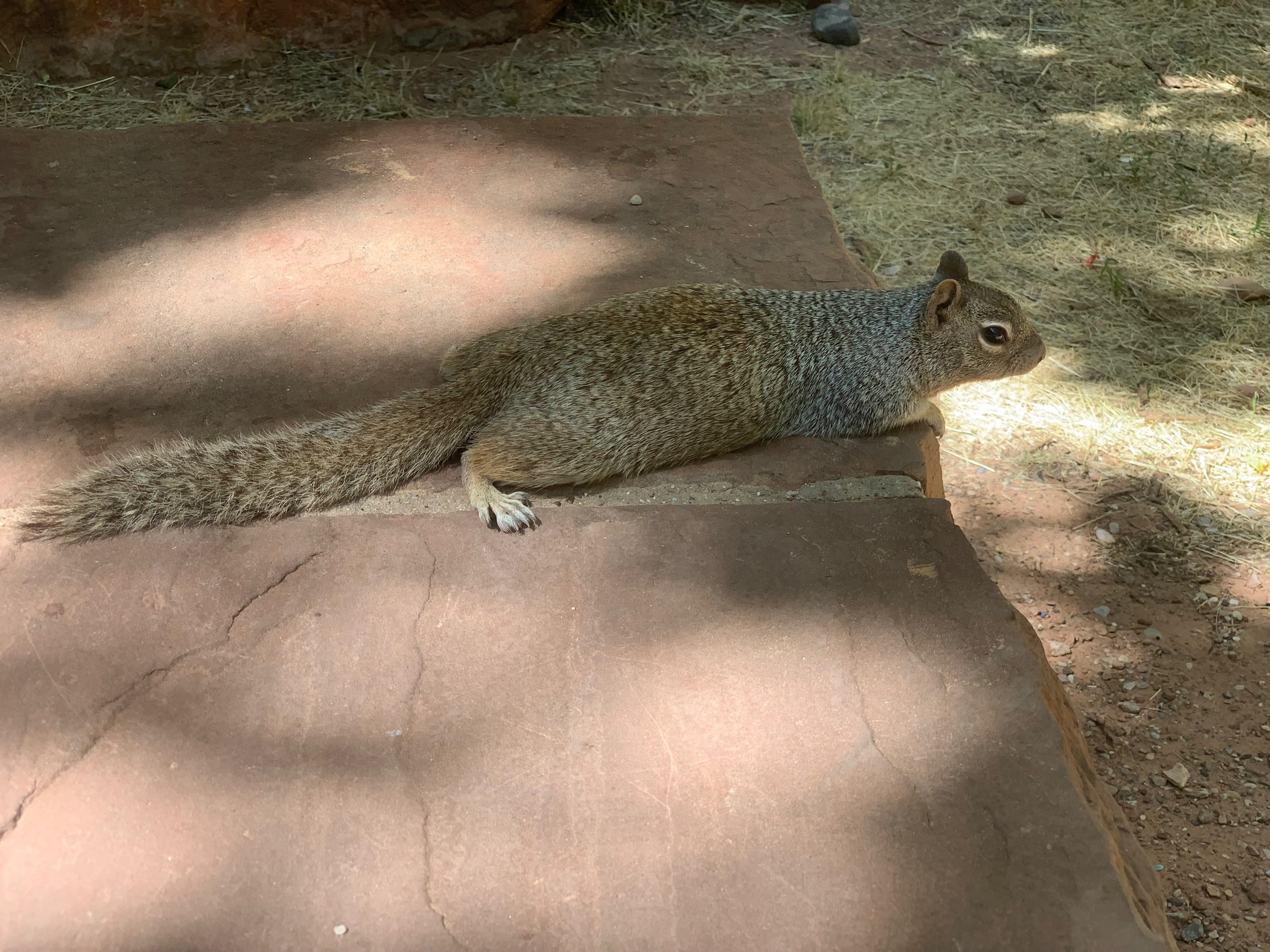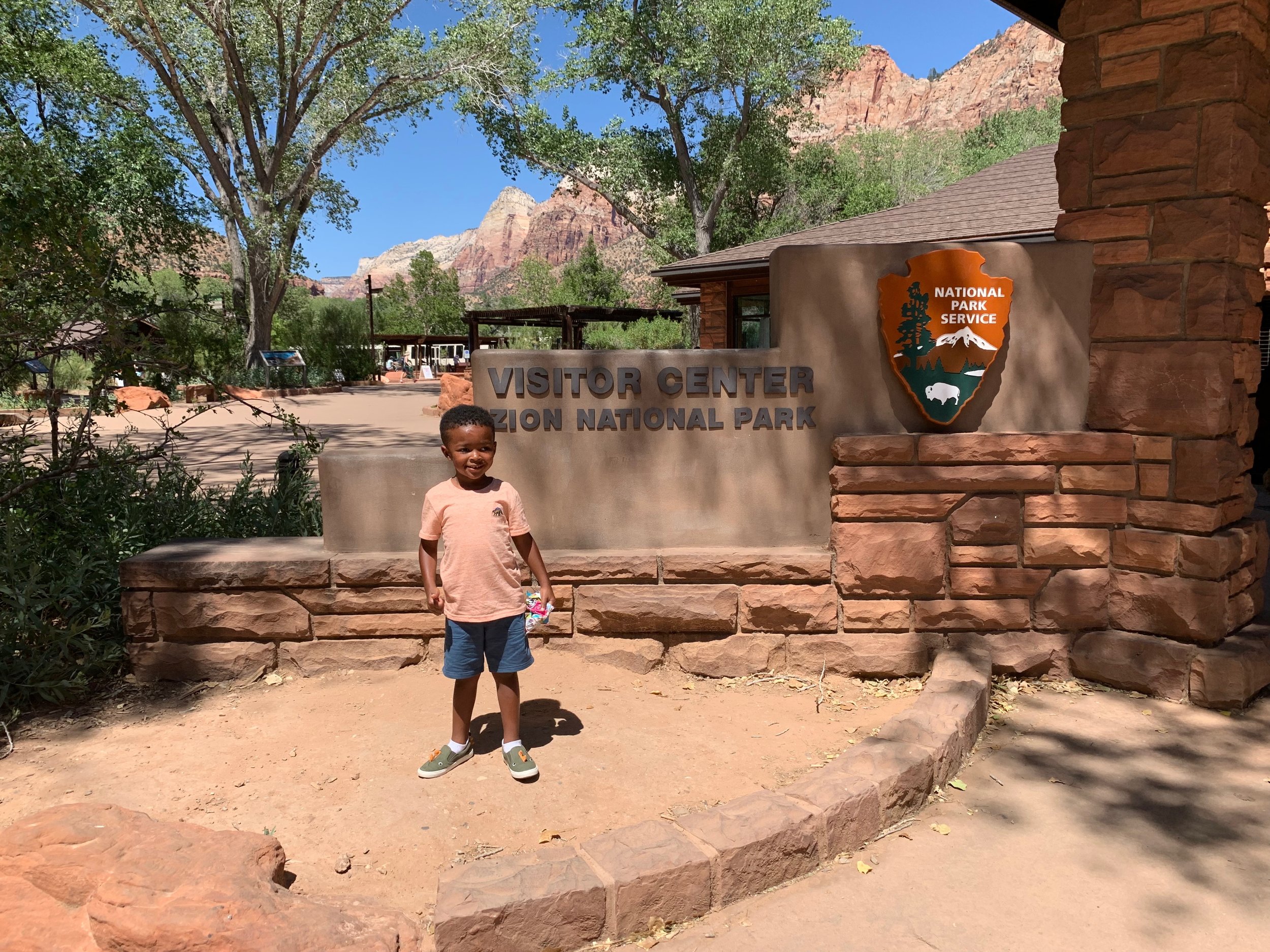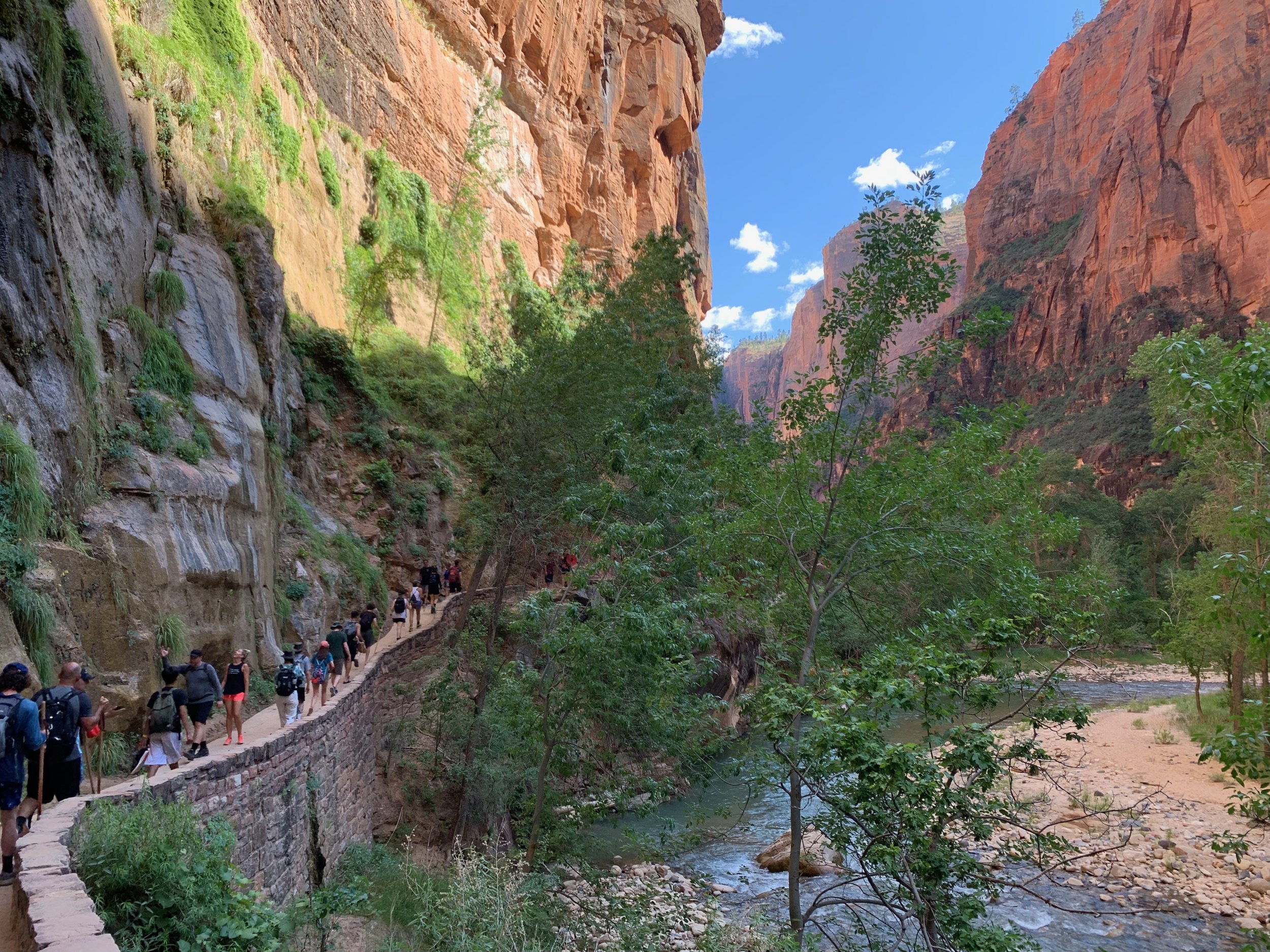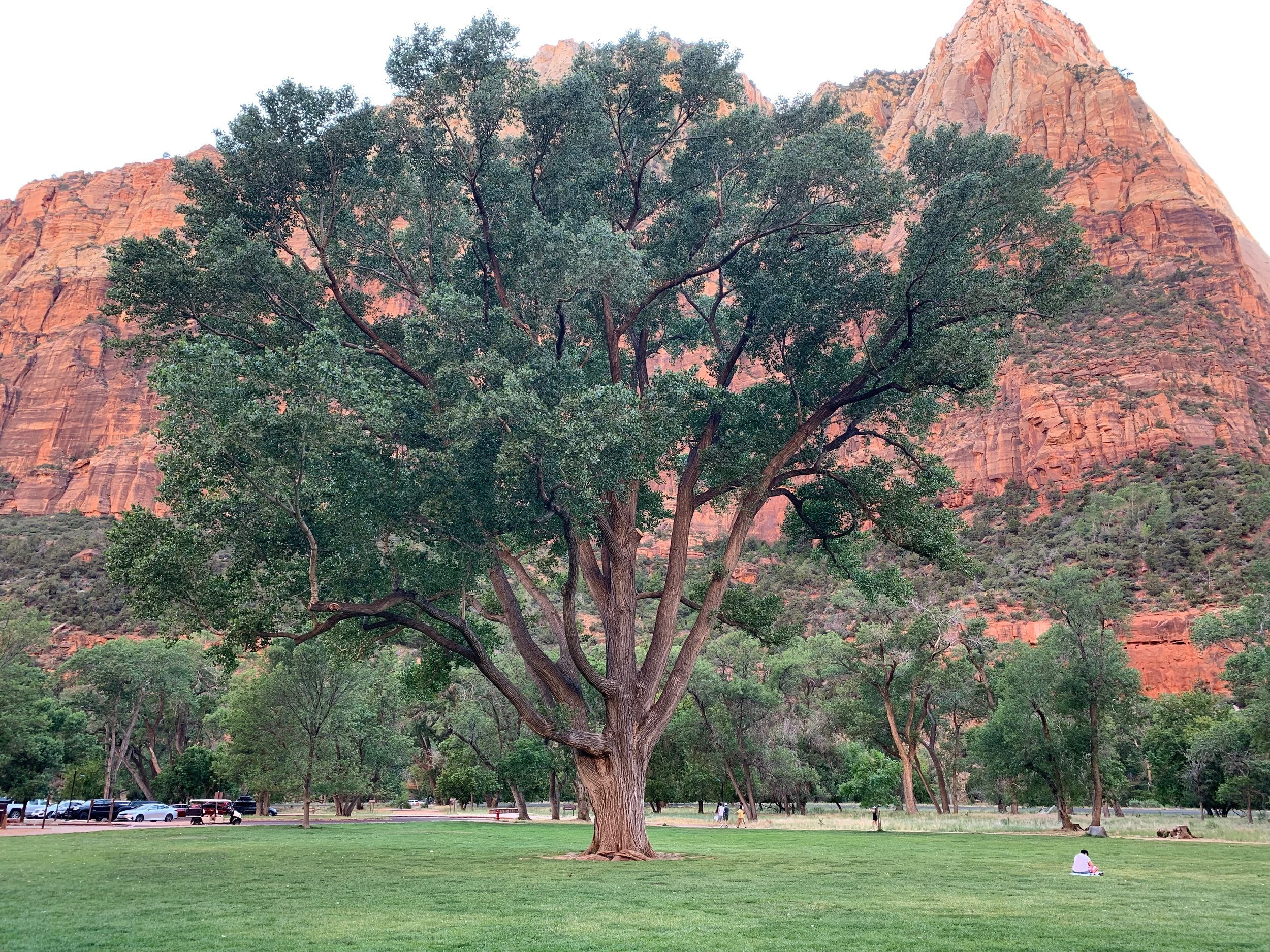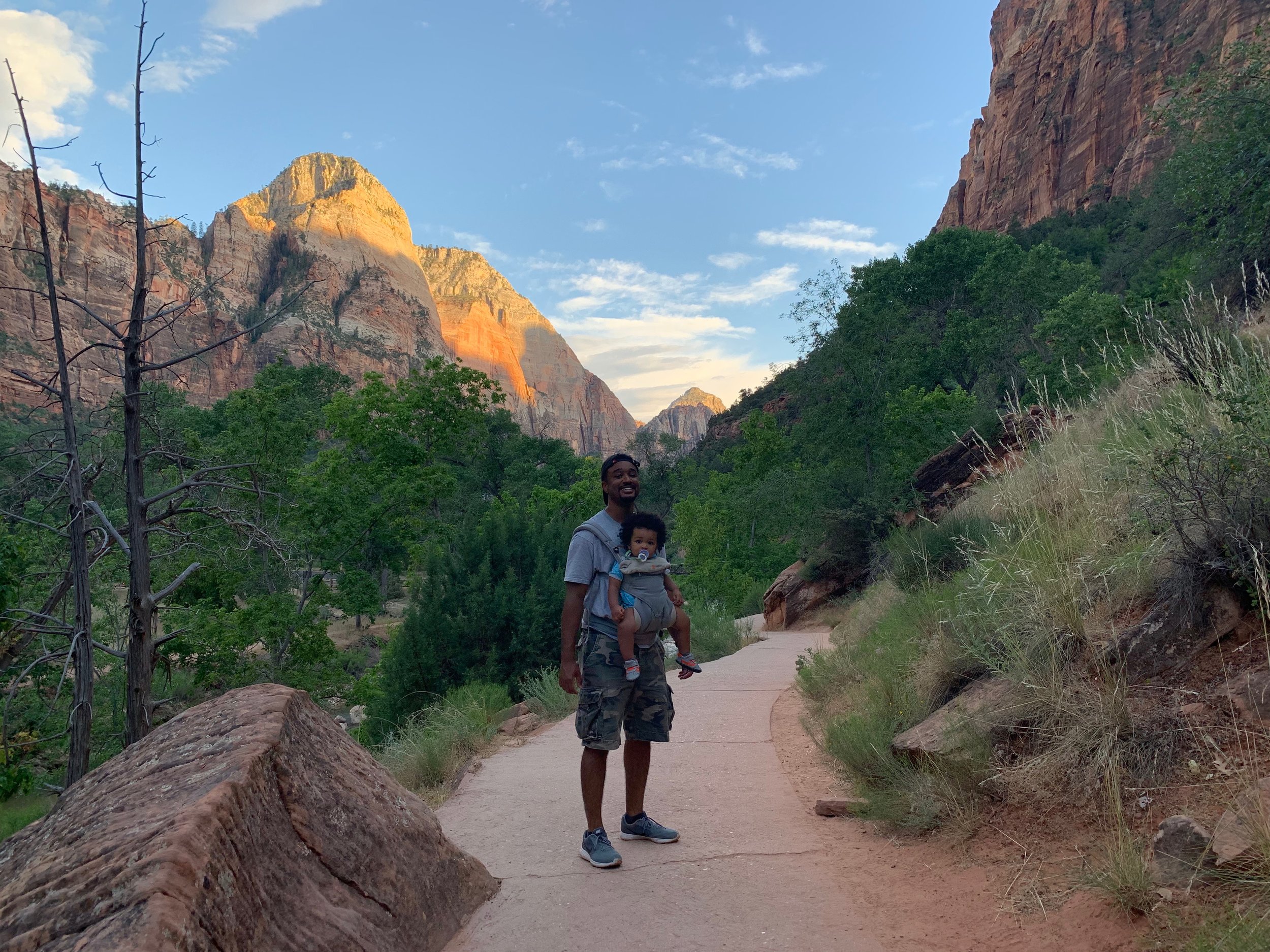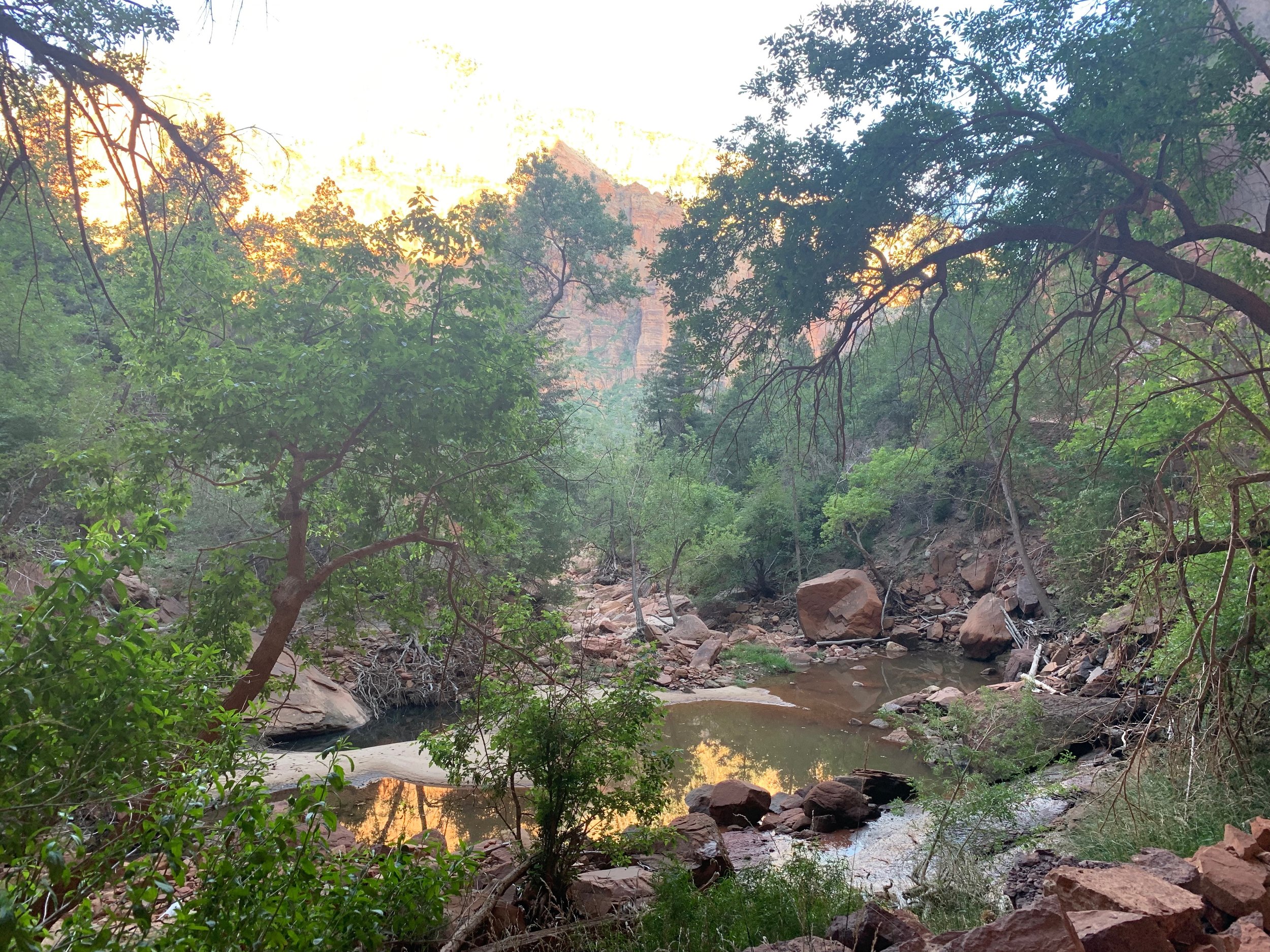 On the drive to Bryce Canyon, there is a scenic highway that includes the Red Canyon. It was such a pleasant surprise. There are plenty of areas for you to pull over and take pictures of the canyon (or climb or just stare at it). As you approach Bryce, there is a small village and shopping/eateries. The weather was cooler as the elevation is much higher in Zion. Once again, you park at the visitor center, and you can shuttle into wherever you want. We stayed around the rim. We did try to go down, but it was a bit too uncomfortable for me. Ethan was getting too close to the edge for comfort, and the lose gravel had me concerned. There are no rails, even on the trail that is marked as easy. Thinking back, I do regret not just biting the bullet and doing it. The boys were a bit tired that day, so I did not want to push it anyway. They wanted to run around more, and at Bryce, it is a bit difficult to do that in the areas we were. We did dine within the park at one of the lodging areas, another pizza spot. Now the big question, is Bryce more awe-inspiring than the grand canyon? Honestly, it's hard for me to compare as they are different. The grand canyon is huge and I think that is what makes it so breathtaking, and Bryce is not as large, but it is stunning in it's own way. I am curious to know if you have been to both and what your opinion is? The drive from Bryce to Cedar City had the most beautiful views I have ever seen. The mountains really do make the best backdrops.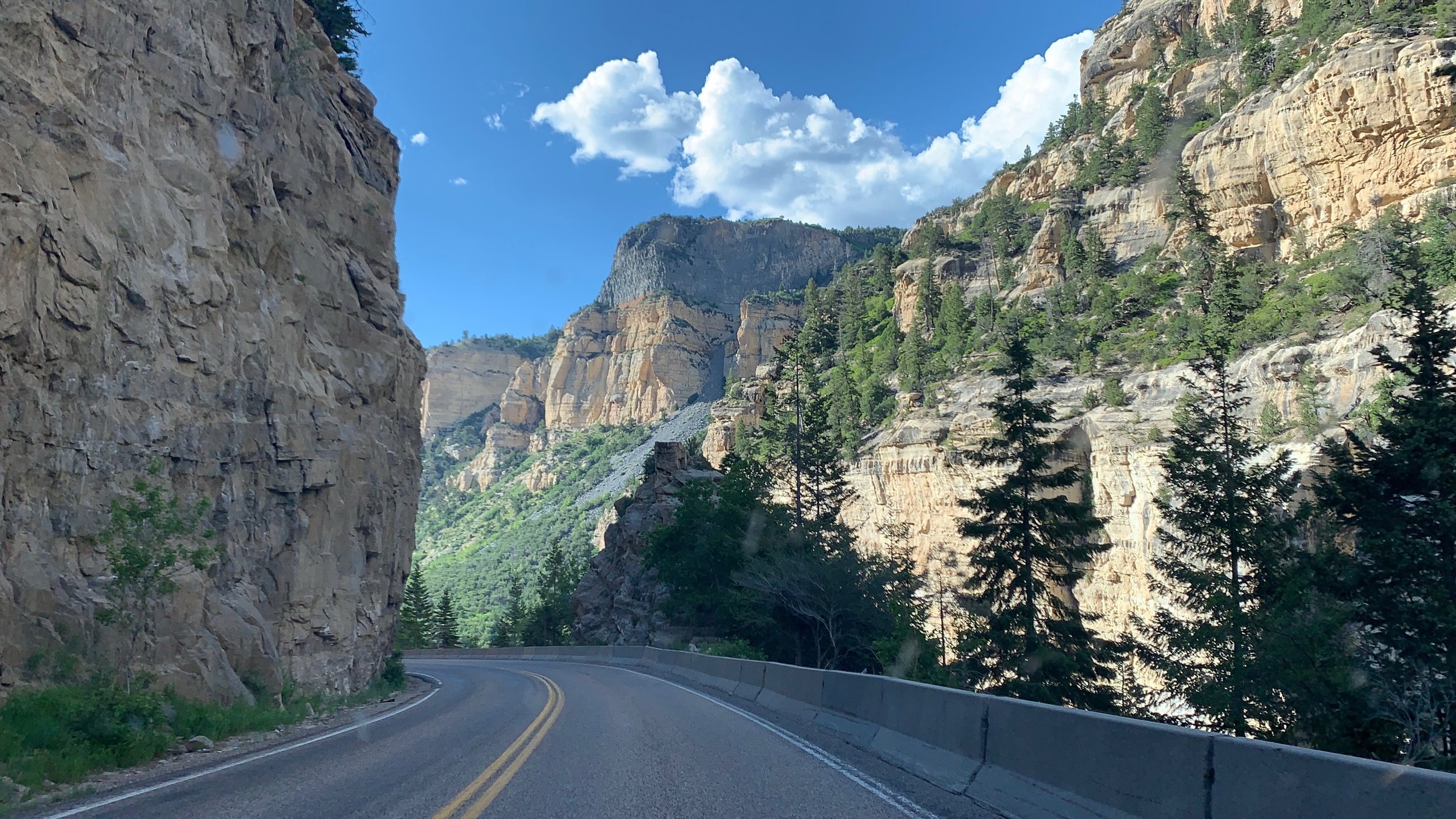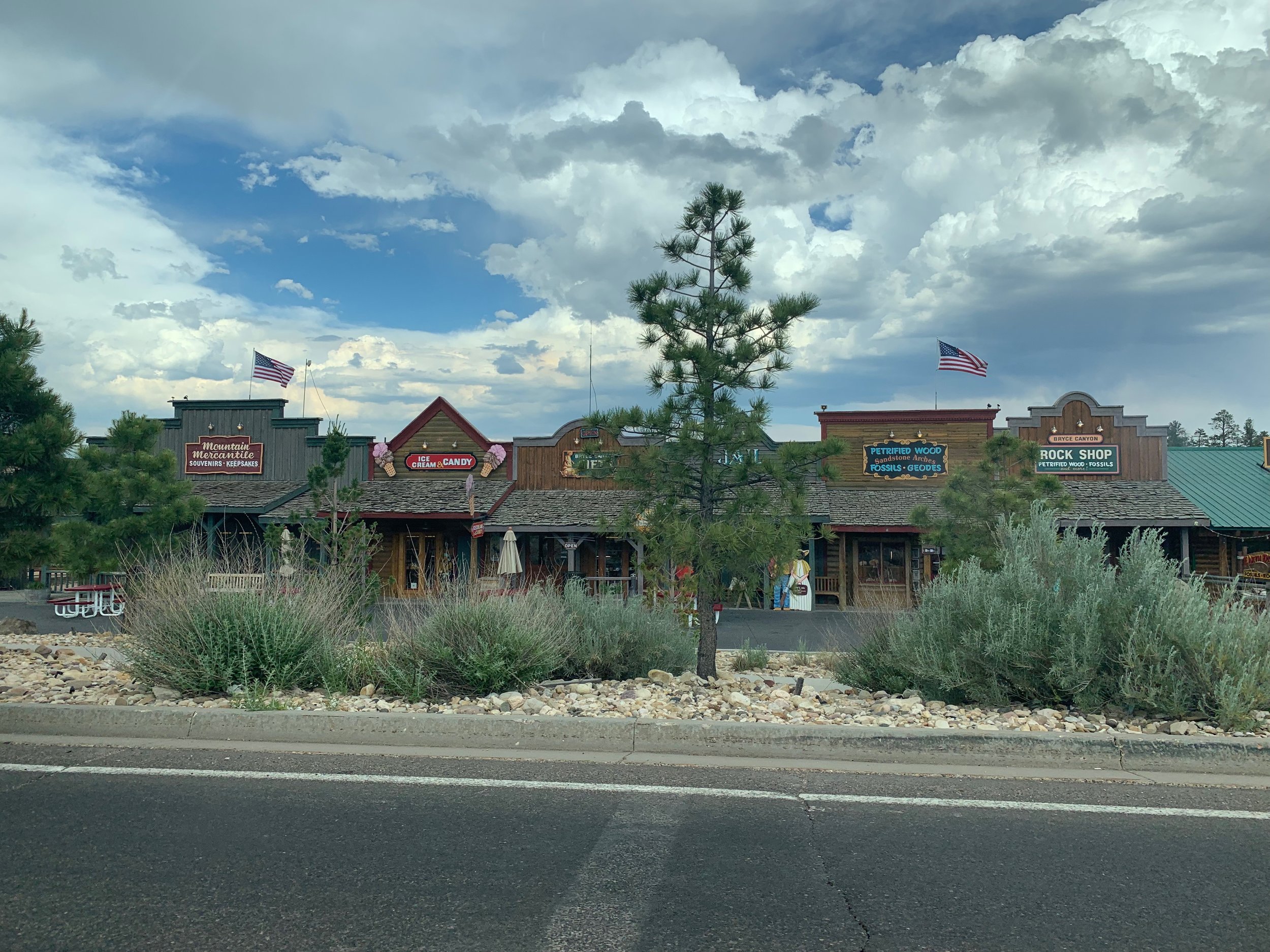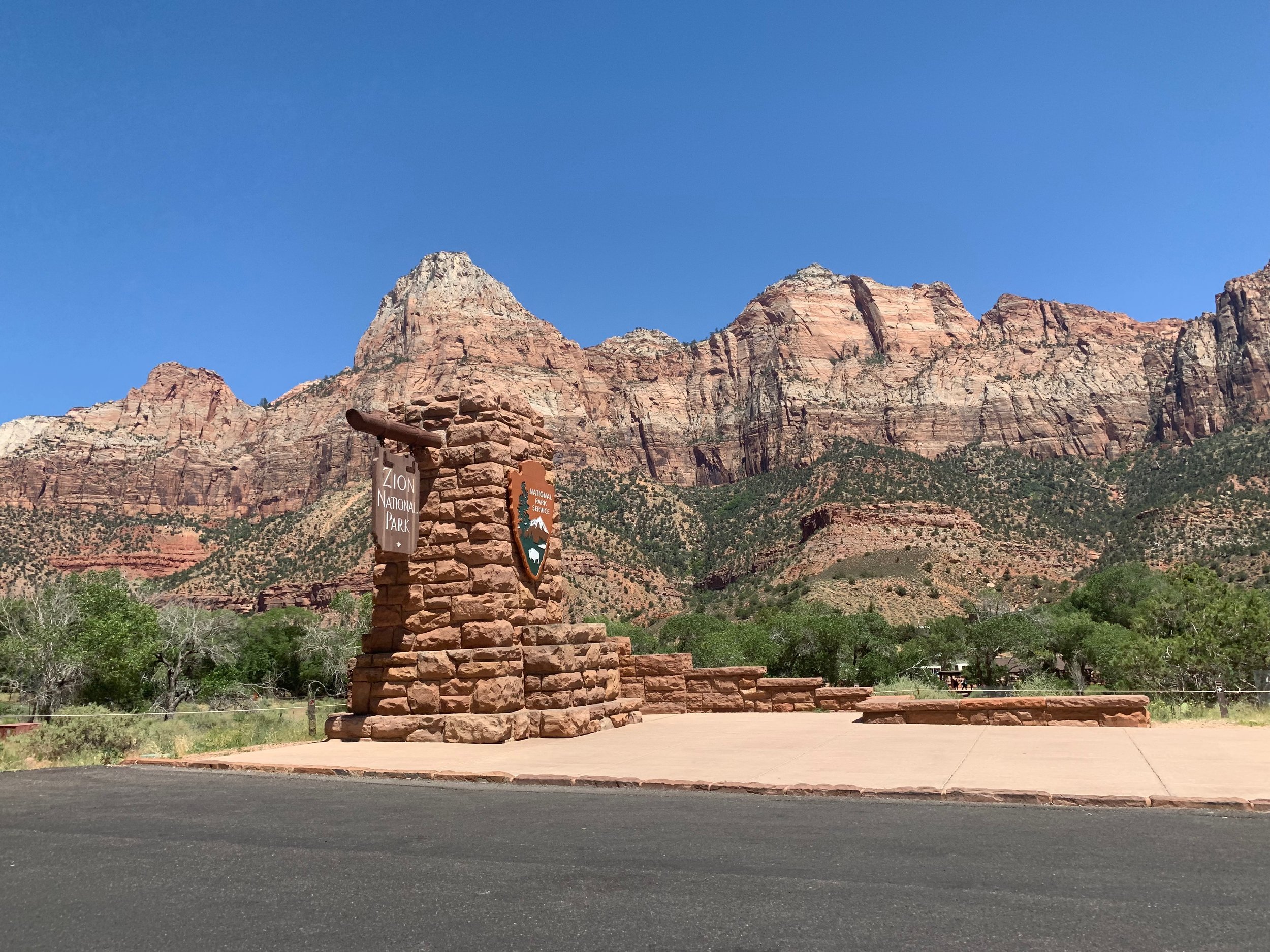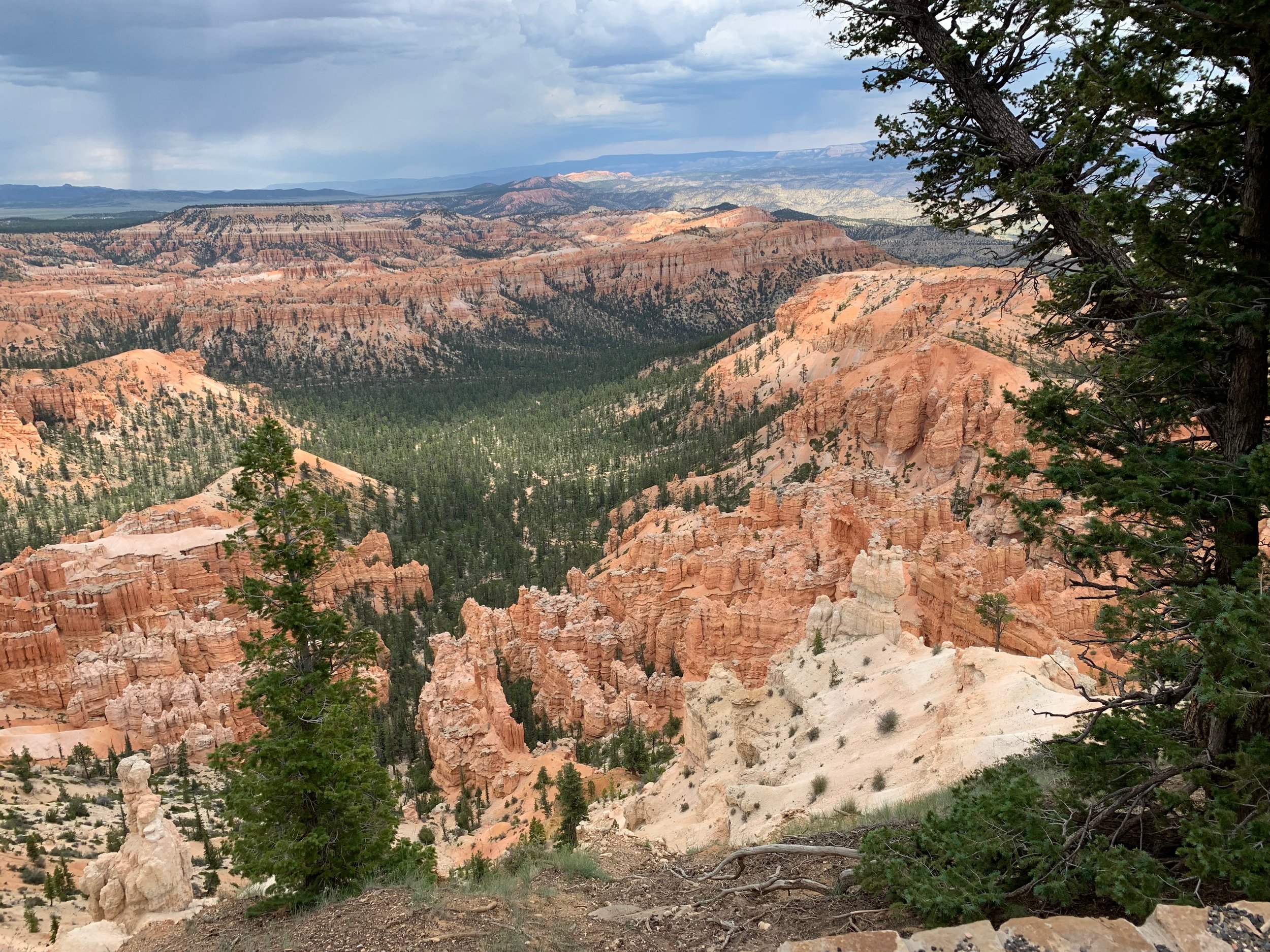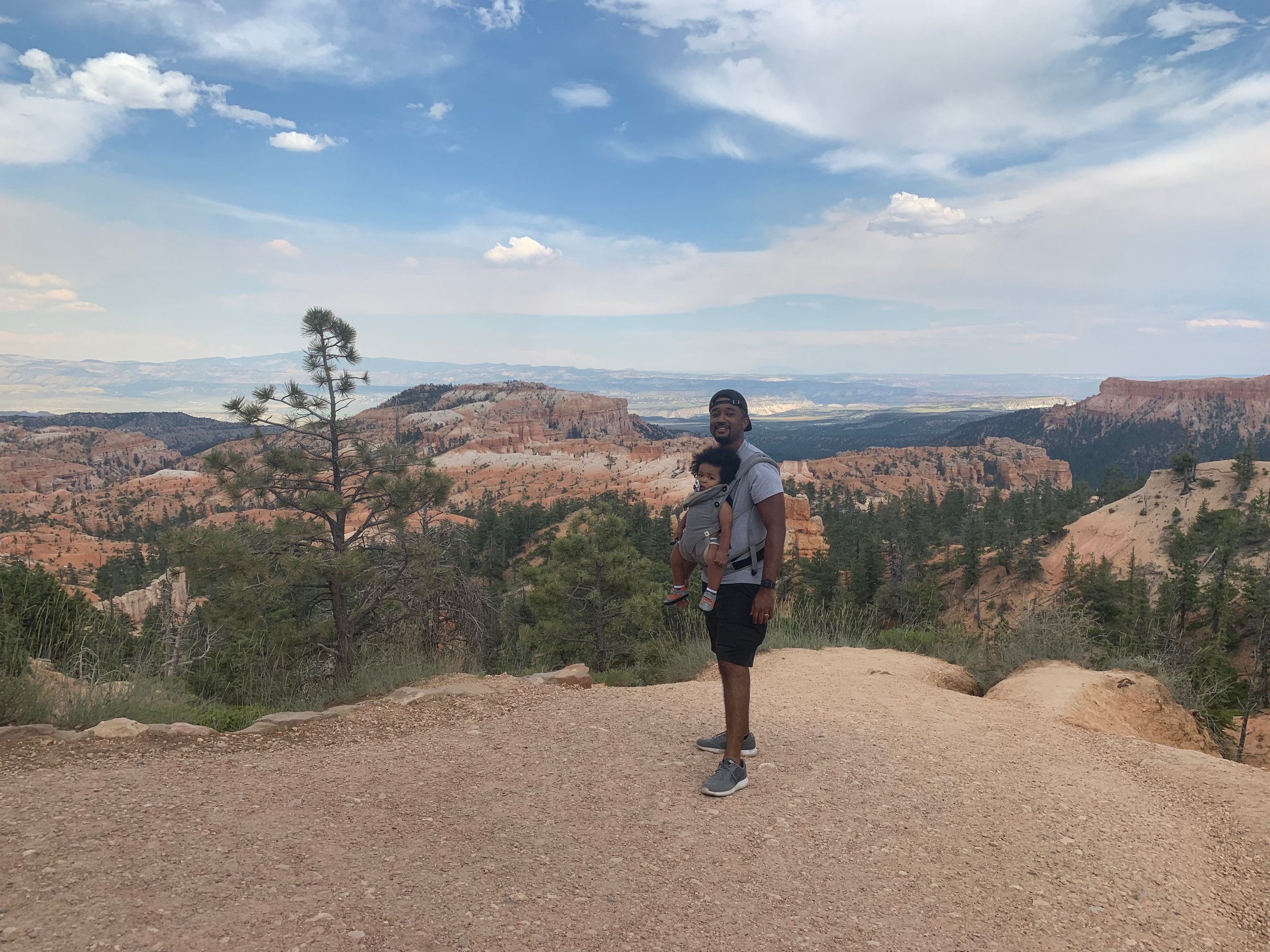 In Nevada, we visited Valley of the Fire State Park and ended in Vegas. I HIGHLY recommend Valley of the Fire. It was extremely hot, so definitely no time in the summer. Most of the trails, including the Wave, were not recommended for hiking due to the heat. There is a nice path to drive and stop and see each area of the park, which will lead to the trails. We spent most of our time at the visitor center. There is a cute museum, as well as snacks for purchase. We dined and walked around the park area behind it. As we drove through the park, it seriously does look like what I imagine Mars to be like. It is filled with bright red rock, and just has terrain that is hard to describe.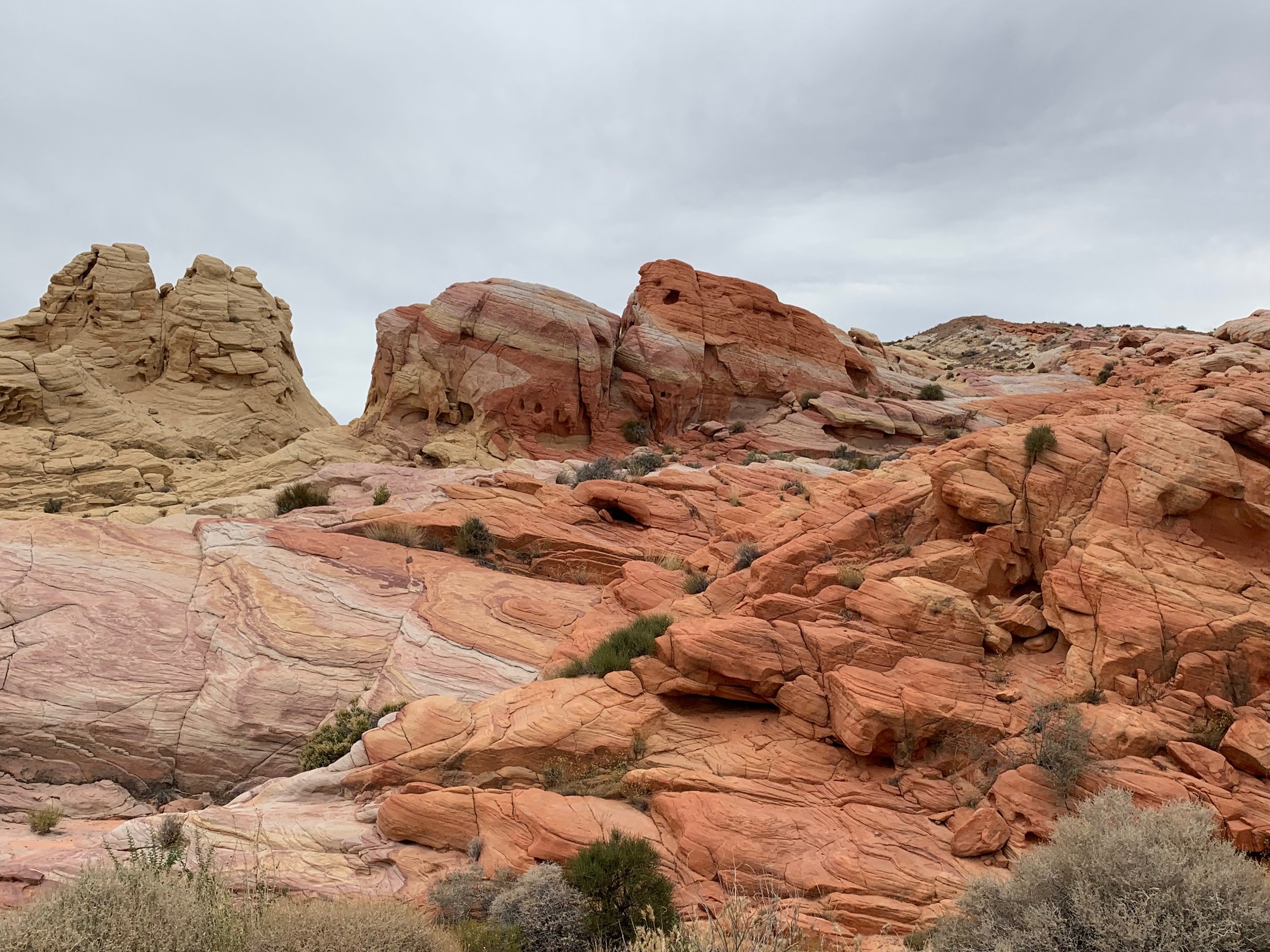 Las Vegas strip with kids was a first and last for me. My husband had never been so I wanted him to get a chance to see it. We planned to just do the mall, but I ended up wanting to show him more. Our first mistake, was thinking it didn't rain in the dessert. We got soaked. Next mistake, is not bringing a double stroller. Honestly, that mistake carried on throughout the whole trip, especially since there were stroller friendly trails in Zion. After we walked the mall, dined, and got ice cream, we walked so far down, that we -could not even fathom walking back to our hotel (which was off-strip by a block). Thankfully, Vegas has a monorail. The kids were free, so we just purchased our ticket (I think 2.50 each) and it saved our feet! I have never taken advantage of this, but will definitely use it next time. Our hotel was cool as it had a trundle bed under the sofa, which Ethan loved. We stayed at the Spring Hill Suites Convention Center, great place!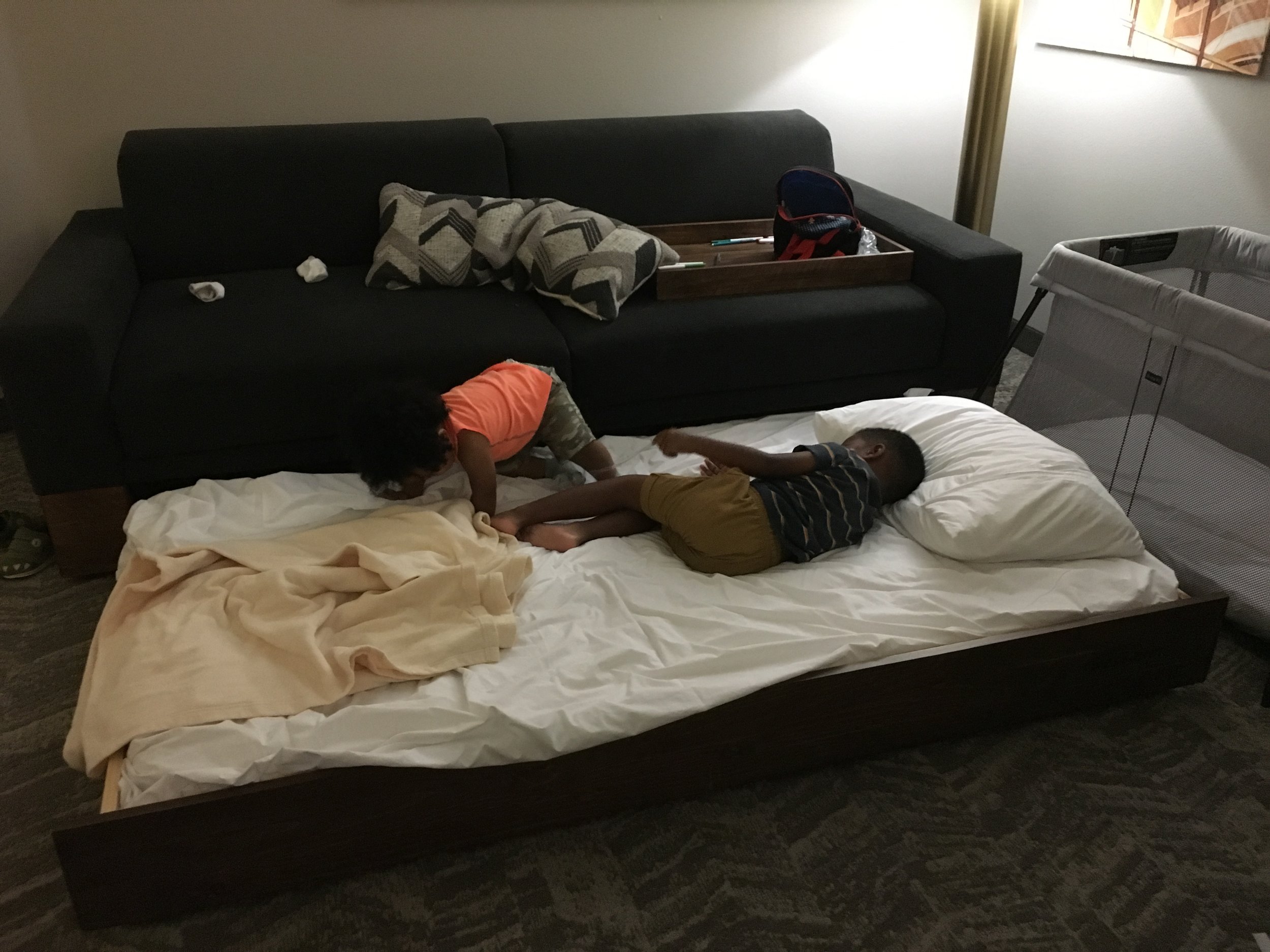 All in all, it was a great trip! Utah is stunning, we passed through a corner of Arizona on the drive to/from Vegas, and it was gorgeous! My eyes were happy, the boys were happy, we all had a great job! It definitely turned out to be a family friendly affair.
As always, thanks for reading, XOXO!