I feel like these last few months have been really hard to find time to blog. Between dealing with a broken hand and other related issues and work keeping me extremely swamped, it's been hard to find the time. My oldest also started kindergarten and every night he has a book to read AND homework. I do not understand why a kindergartener needs SO much work. It's hard enough that they have to spend 6+ hours away, I can barely handle doing work for 8 hours and I am getting paid to be there. Anyway, rant over, time to get into the trip.
You know a trip is good when you look at pictures and you instantly wish you were there. As usual we packed as much fun as we could into the this trip. I actually had more planned, but again, traveling with kids often requires adjustments. Sometimes they just need time to be a kid and run around in the hotel room or wherever it may be. I asked my husband what his favorite trip we took this year was, and this just so happened to be it.
We flew into Denver, as I found $49 each way tickets on southwest. From Houston, they seem to run this deal quite often, so if you are in Houston, shop the low fare calendar. Once we landed, we headed down south to Colorado Springs as it was closest spot to most of the activities we did. It is a beautiful town that's nestled amongst the mountains, actually it is a city, with a full downtown and everything. I was did not expect that.
First Stop, Dinosaur Center Resource Center…we drove straight from the airport to there.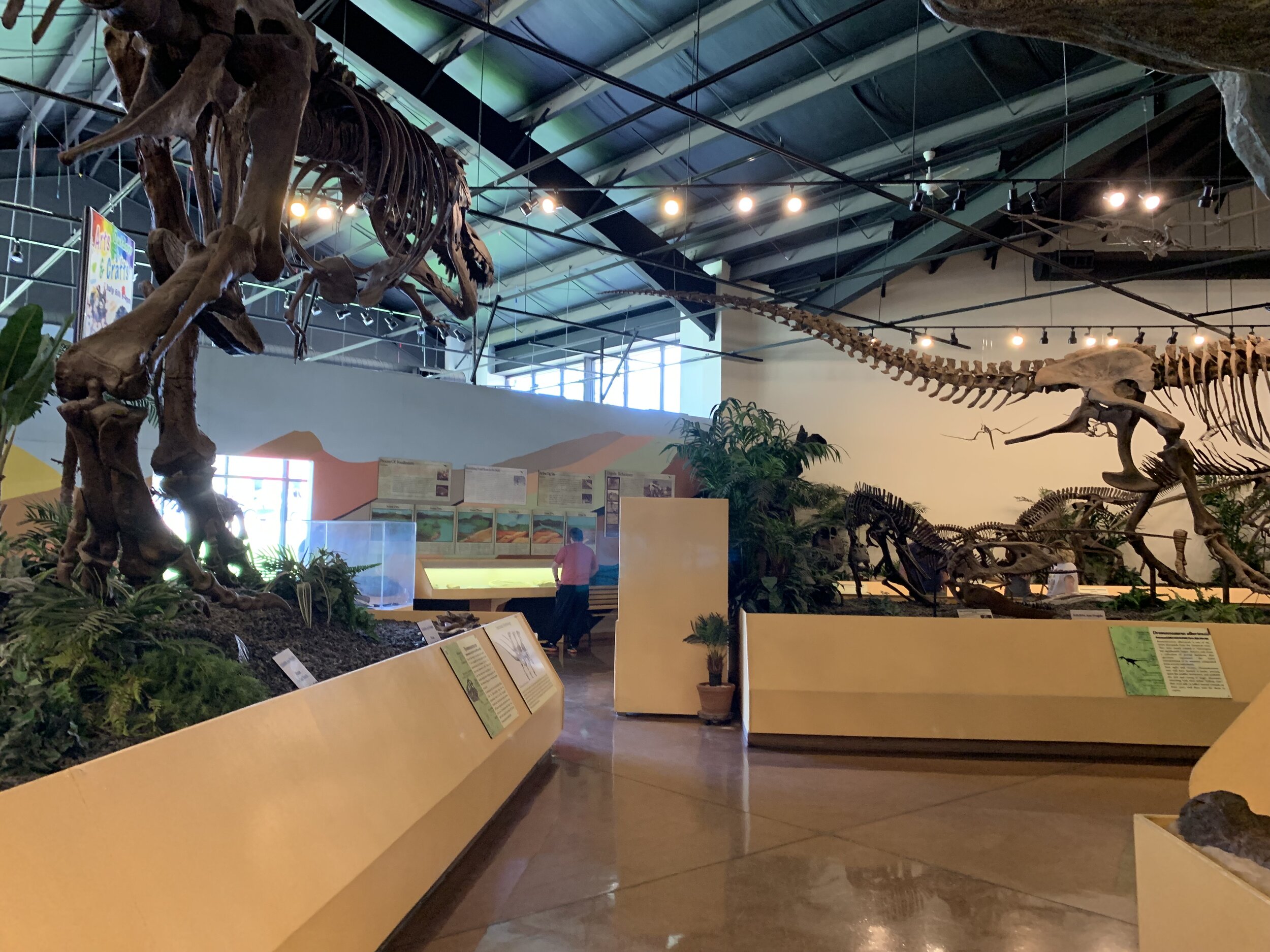 This was obviously for the kiddos, well my oldest Ethan. He is dinosaur obsessed, but once again I am surprised how much we all enjoyed it. Learning about dinosaurs is just so fascinating. There were quite a few dino remains found in Colorado we learned. You can view dinosaur bones, similar to a museum, but there are tons of interactive activities for the kids (or adults) to do, story-time, a movie, and a cool gift shop. If you are hungry, head across the street, there is a really good beer and pizza spot.
Garden of the Gods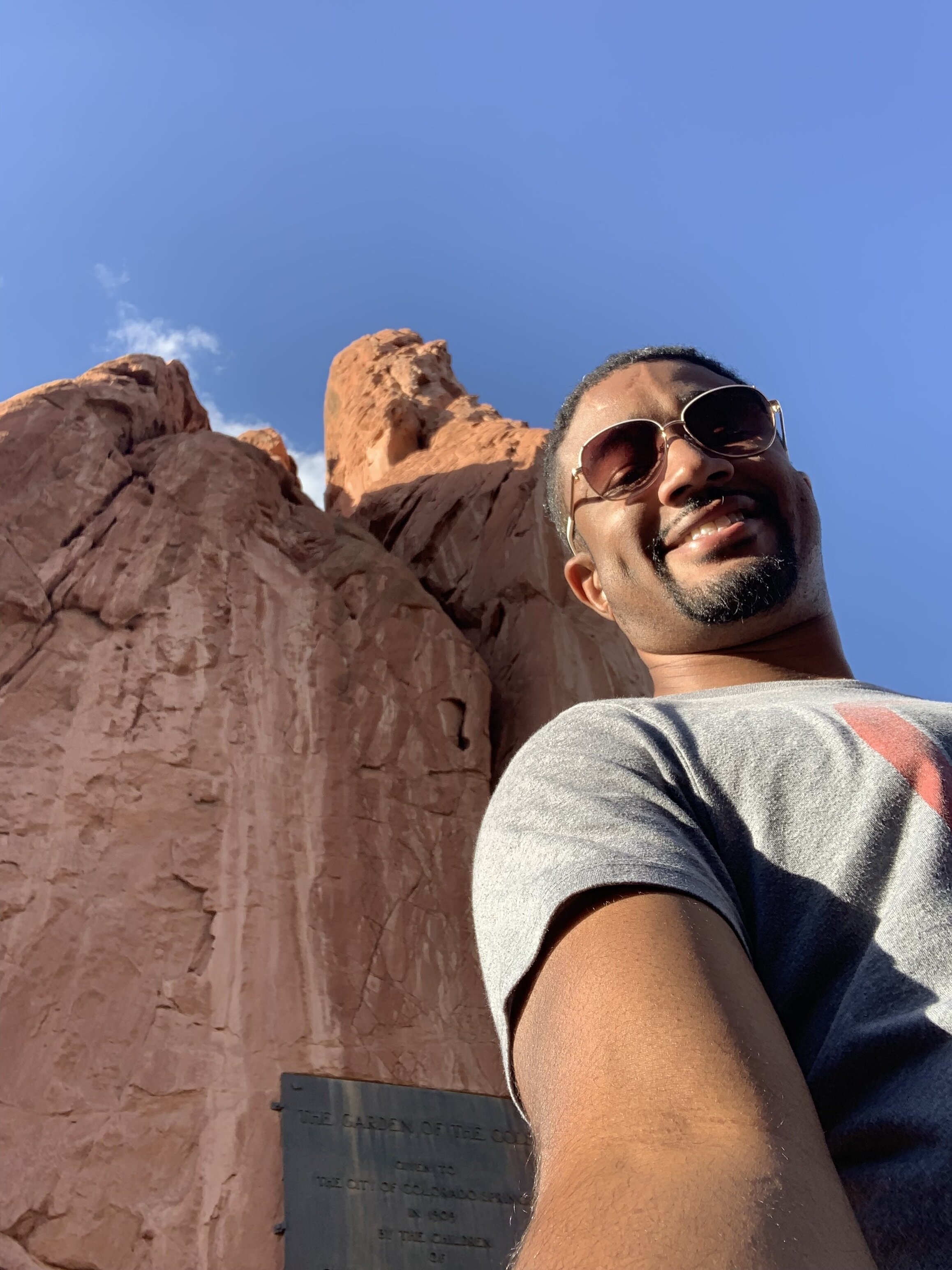 It is FREE and breathtaking!!!!!! The Red Rock Formations will leave you speechless. They are seriously incredible!!! You can drive around and there are several places to hike. The actual "money shot" location is just a pull off on the side of the road. We almost missed it. Take a picture quick, because several people are wanting to get the money shot. We did the first/ main trail. It is all paved, so stroller friendly, which is great. There is even a little sandbox for the kiddos to play in. I saw a little girl climbing one of the large rock formations, which was pretty incredible and brave. The trading post in the park is supposed to be very cool, but it closed early, so we sadly missed out. The visitor center has a great coffee and eating spot. You can enjoy a beautiful view from there, learn some history, and discover what lives in the garden of the gods. This is a must see!
Historic Downtown Manitou Springs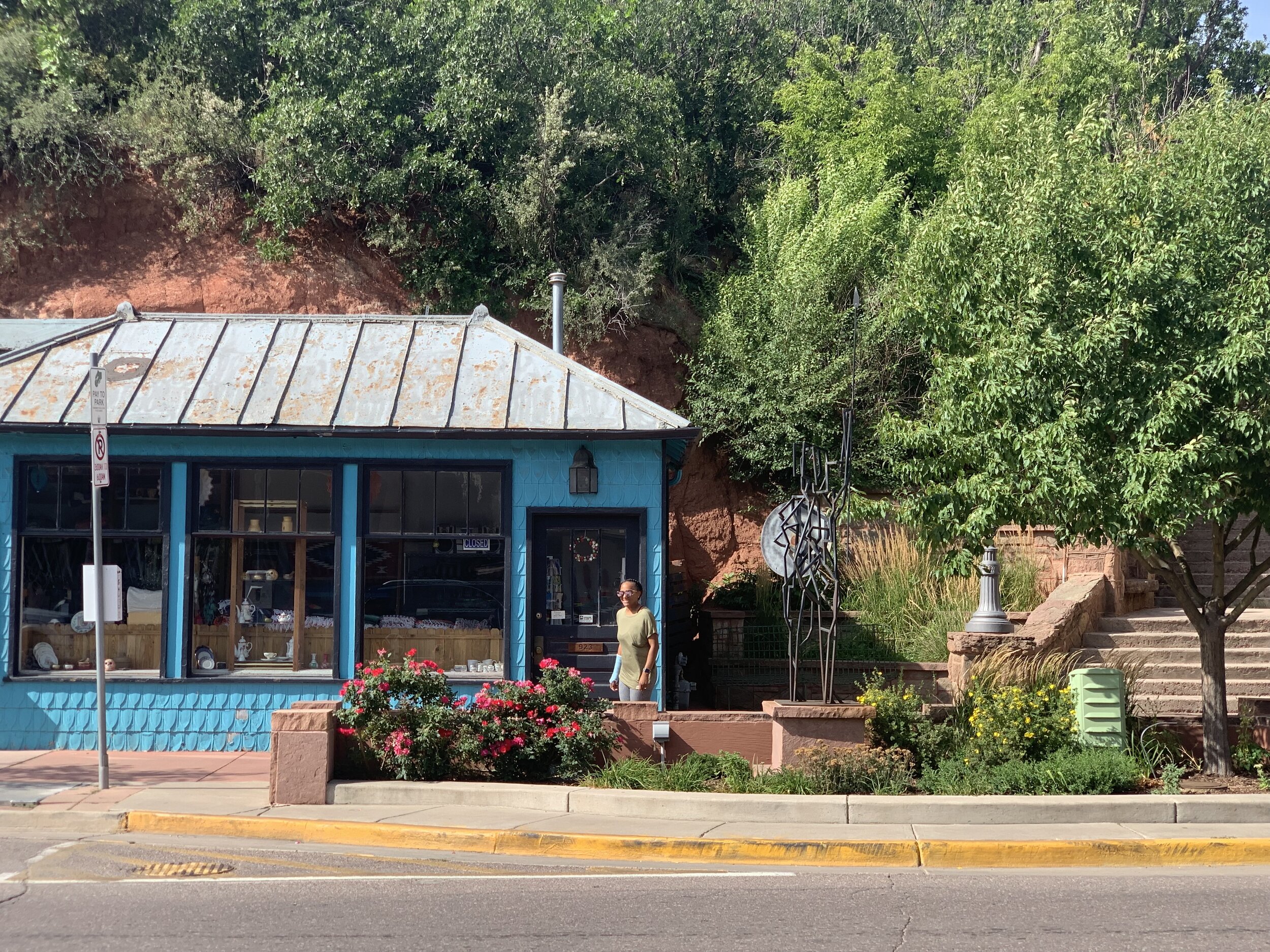 One of the cutest towns I have ever seen! There is a spring that runs through the historic downtown, lots of shopping, and eateries, and the most random thing, an arcade area with all of these riding toys that I have not seen since I was a kid. Needless to say, this was a hit with Ethan. We spent a few hours here, mostly just riding the arcade ride-on toys, and I shopped around while Paul and the boys played at the park. There is a fountain with spring water that is believed to have healing properties. The native americans would even use the water as a "prescription" for illnesses. I definitely dipped my hand it in, but looking back, I think I should've drank it ha.
Manitou Cliff Dwellings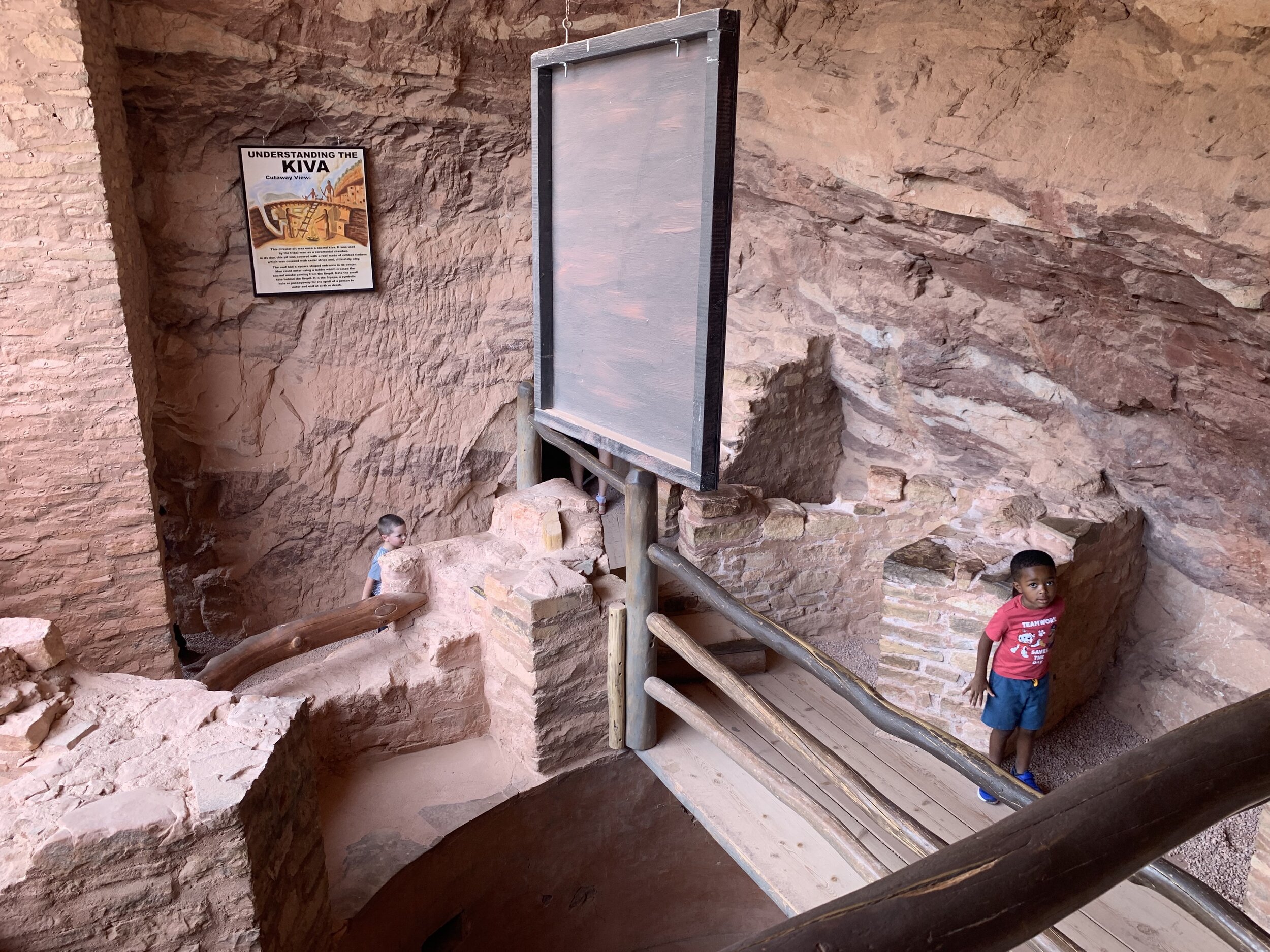 One word to describe these cliff dwellings: INCREDIBLE! They were originally located in southwest part of Colorado, thought to be 1200 B.C. to 1300 A.D. years old. They were relocated for preservation in the early 1900s. You can go inside them and some spots require you to hunch over, but most parts are spacious for you to walk comfortably inside. The surprising thing is that they are super cool inside, despite it being hot outside. I assume that is what makes the stones so special. Next to this is a museum that tells all the history. It is a little pricey, but I think it is worth it.
Rainbow Falls
Can you guess how it got the name? Yep, cause the graphiti. My camera does not capture the intensity, so that just means you have to visit it yourself. We got in the spring and it was cold!!! I get why Colorado springs and Manitou springs end in springs, there are several springs :). The walk to the waterfall is paved and short (less than half a mile). There is a small entrance fee (I think around $5 for all of us total).
Royal Gorge Bridge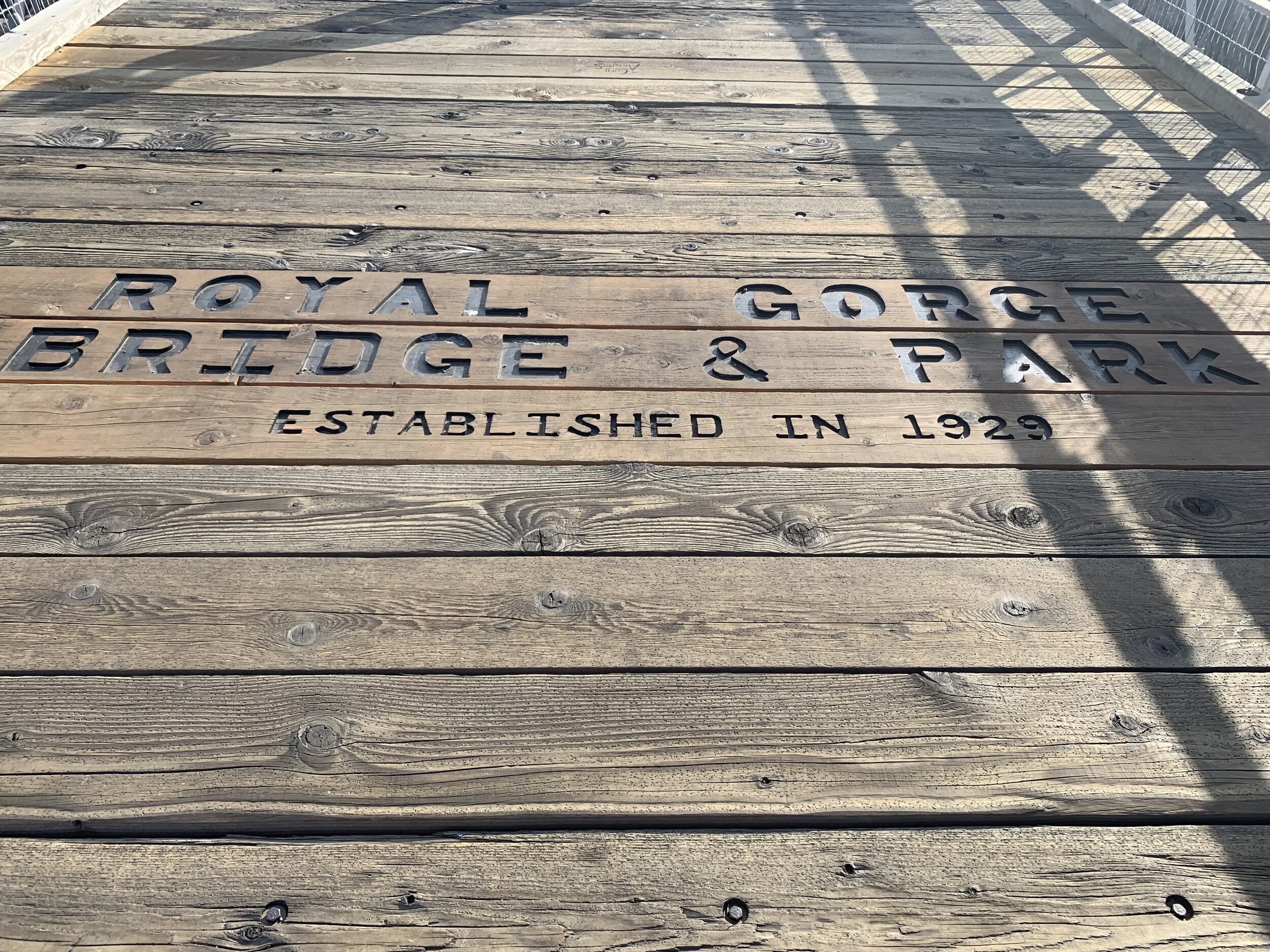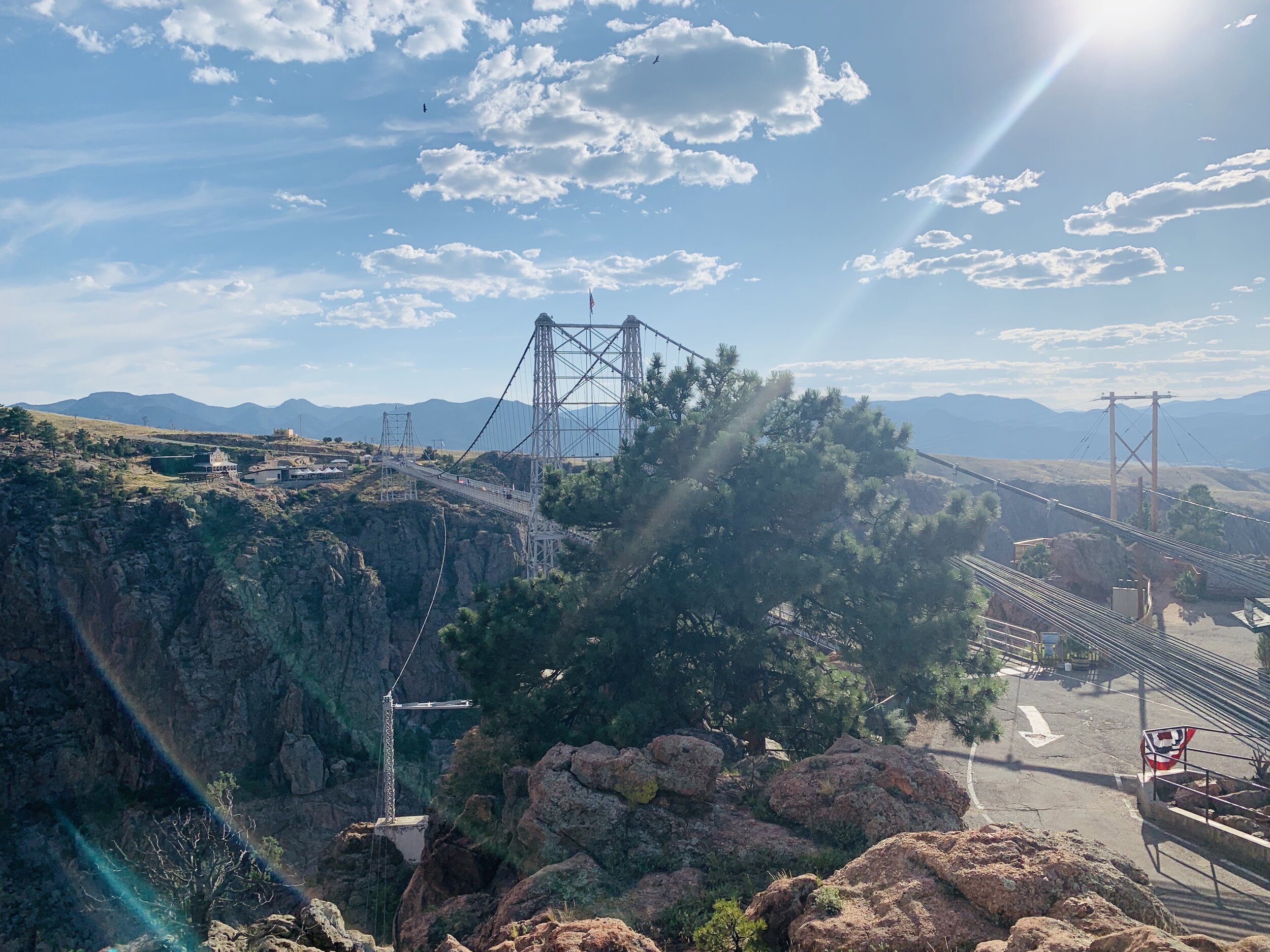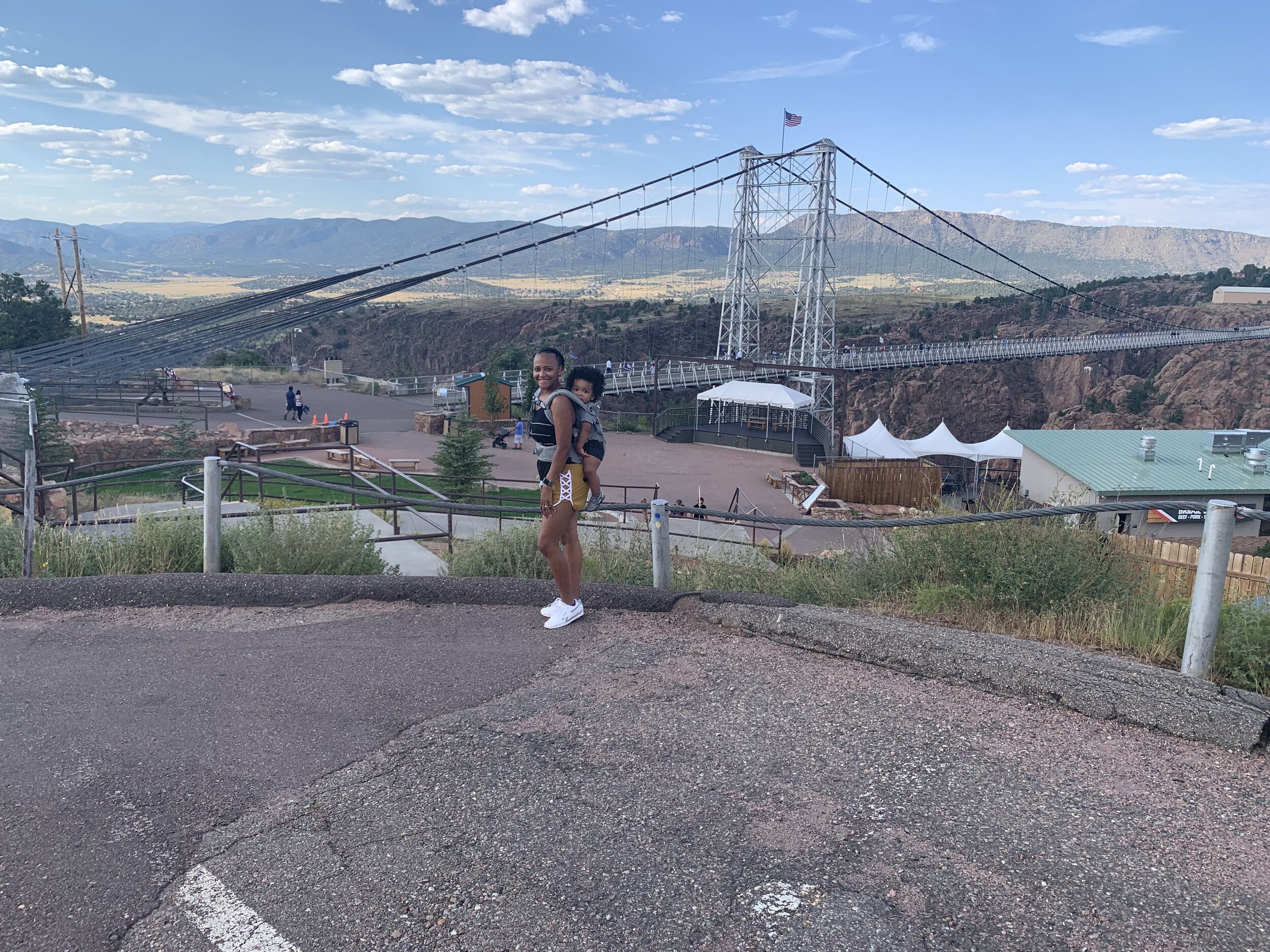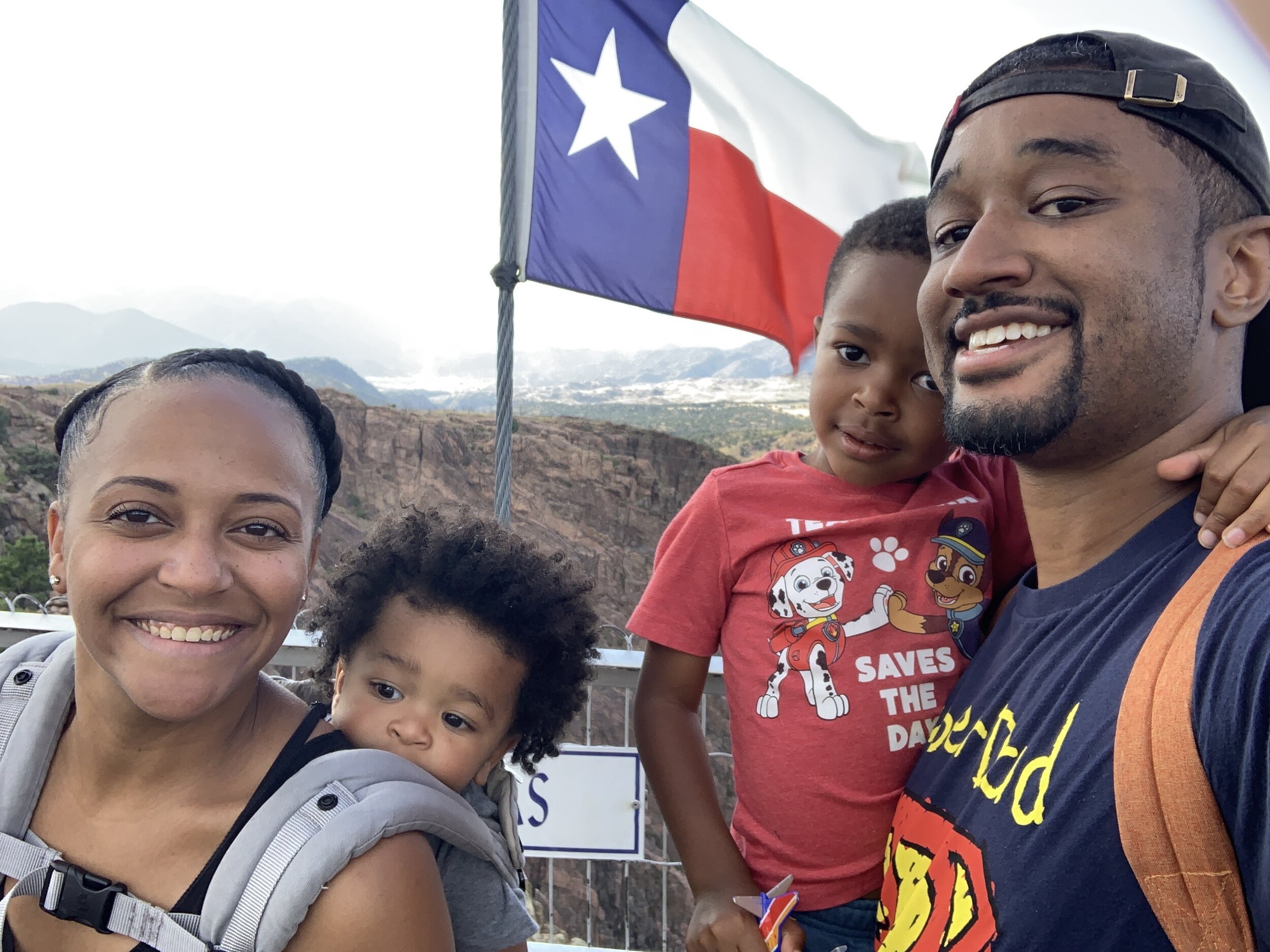 We loved this place. We were debating between this and the Sand Dunes and I am really happy we picked this place. It is more kid friendly than the dunes and closer to Colorado Springs, only an hour vs 2.5 hours. My youngest is not a big fan of the car-seat. There is SO much to do at the Royal Gorge, it's definitely more than a bridge. Kids under 6 are free, so the boys were free. The adult cost was $25 per person, which is a bit hefty, but again, there is a lot to do and included in the rate. There are several eating spots (1 larger one, and few smaller ones), the famous bridge, aerial gondolas, a zip line that goes across the gorge, tommy knocker's kid playland, plaza theater, and a sky coaster. This place is stroller friendly. You can even bring the stroller on the gondola.
Estes Park & Rocky Mountain National Park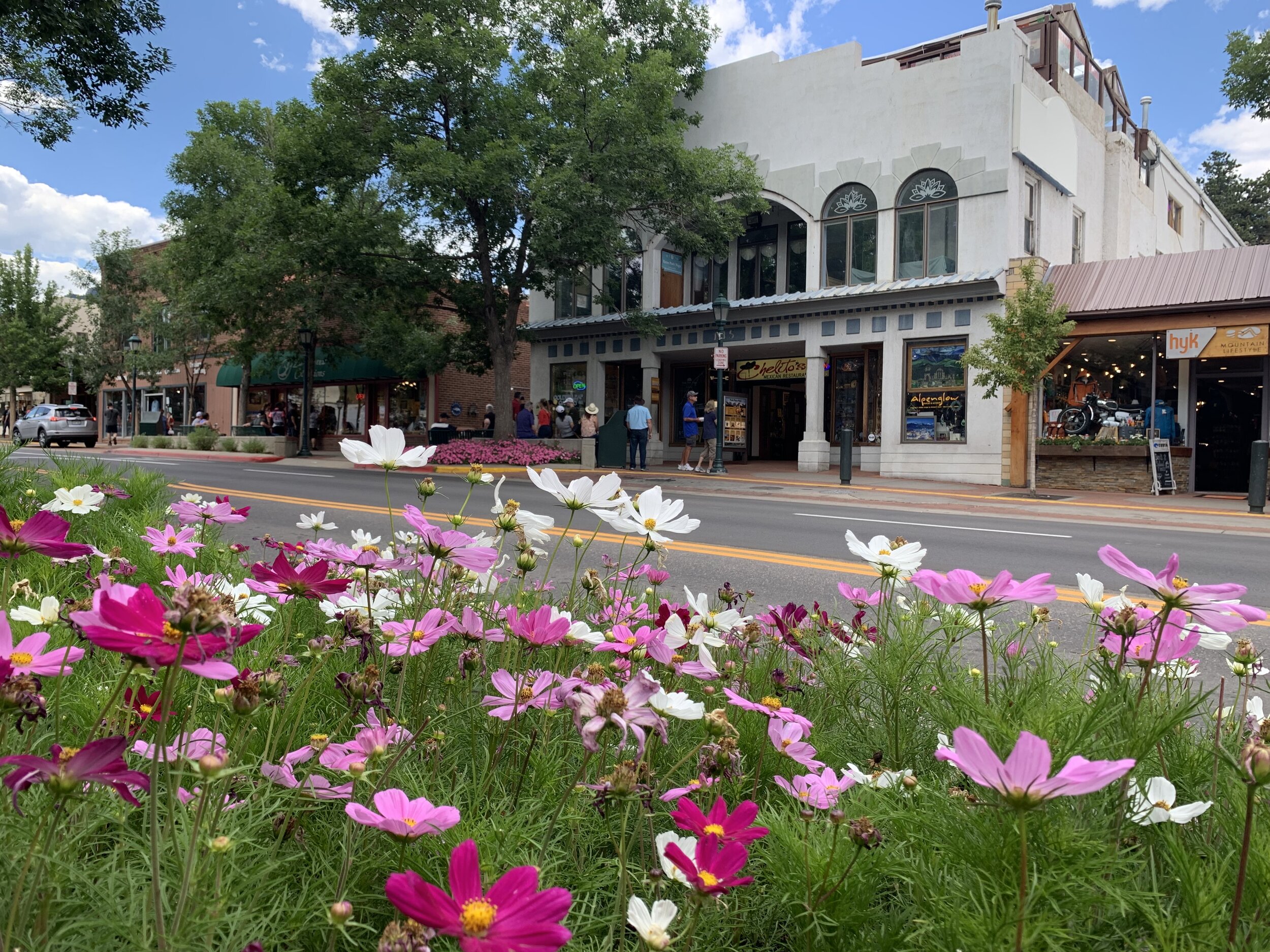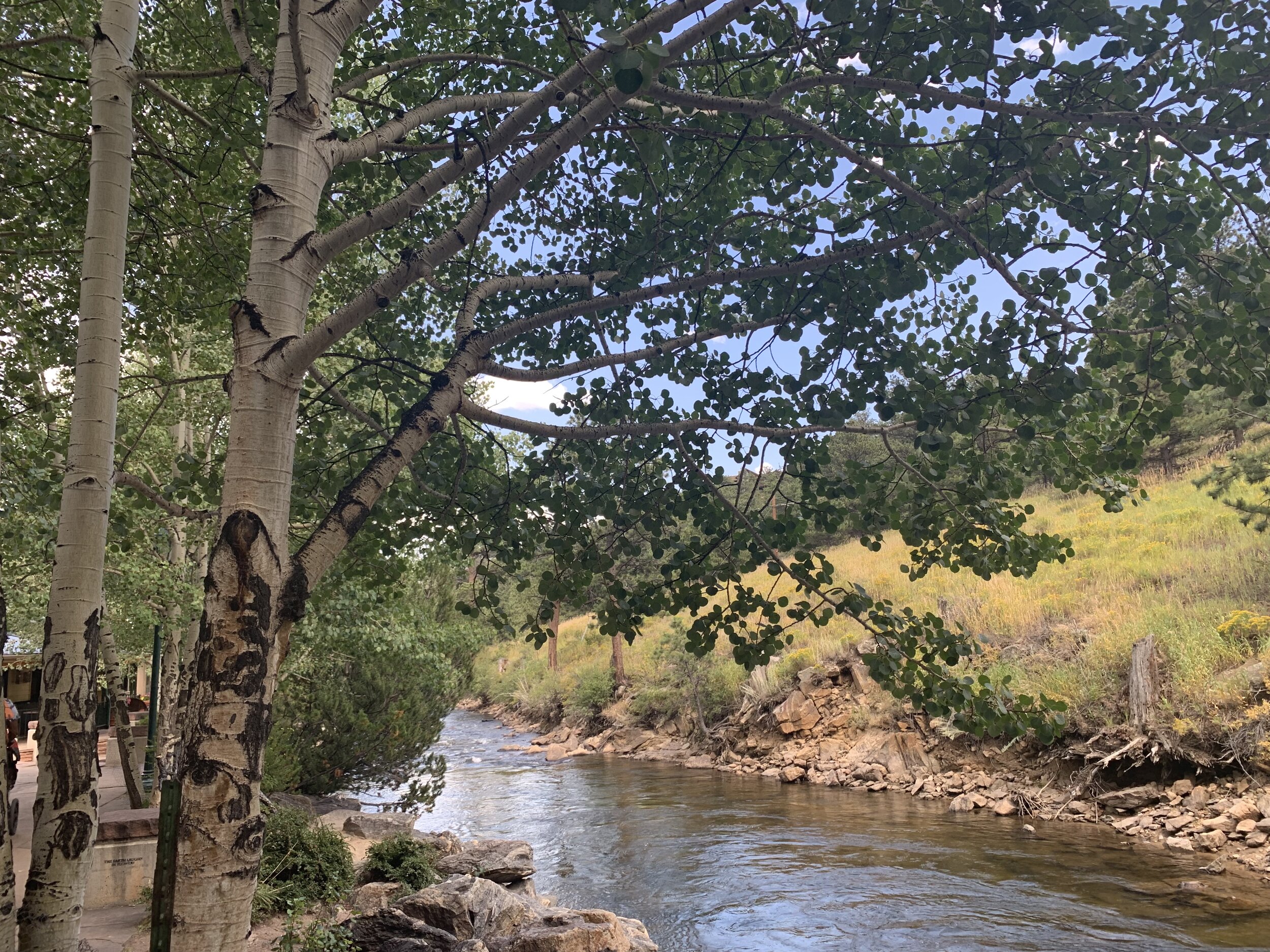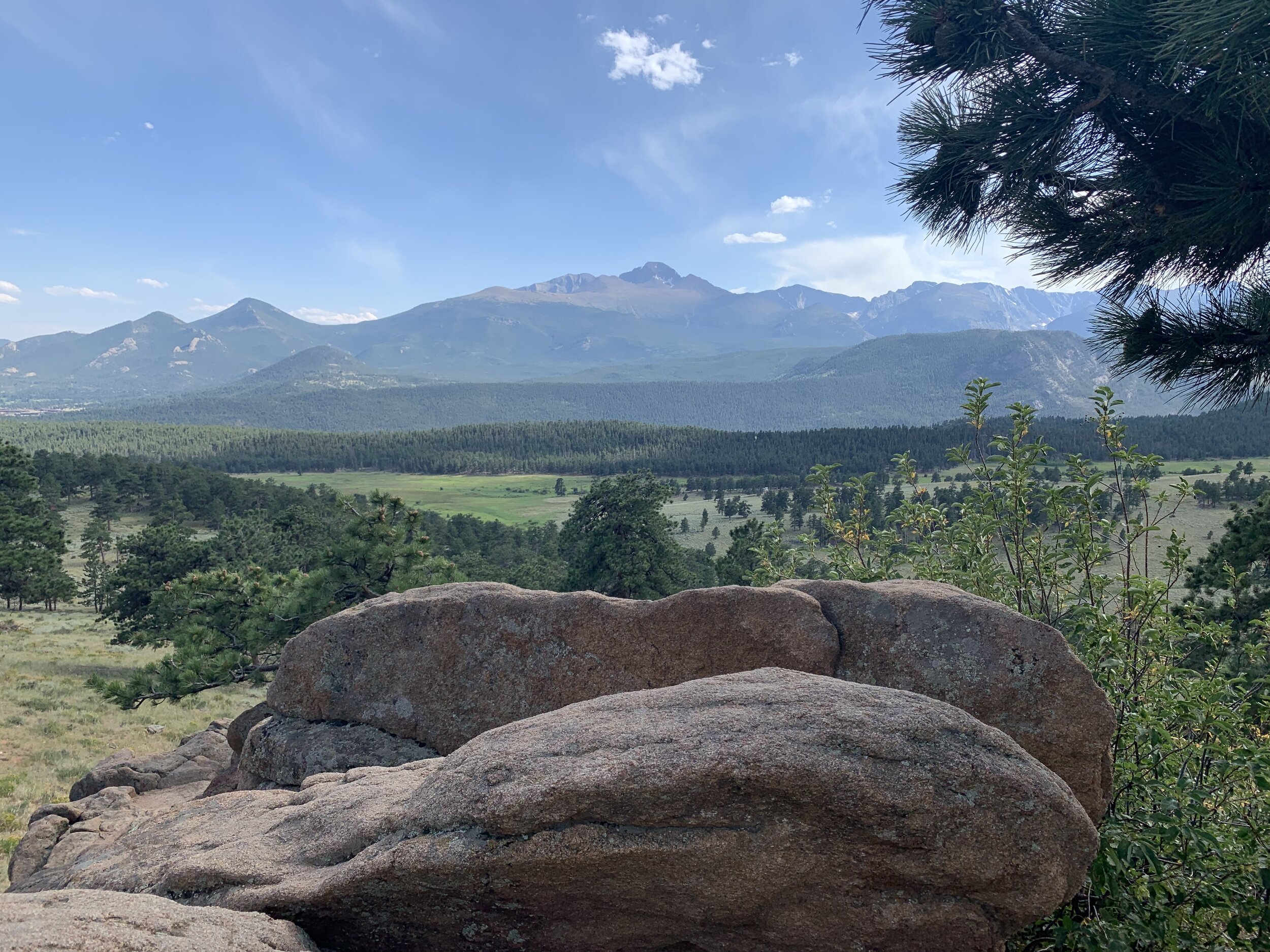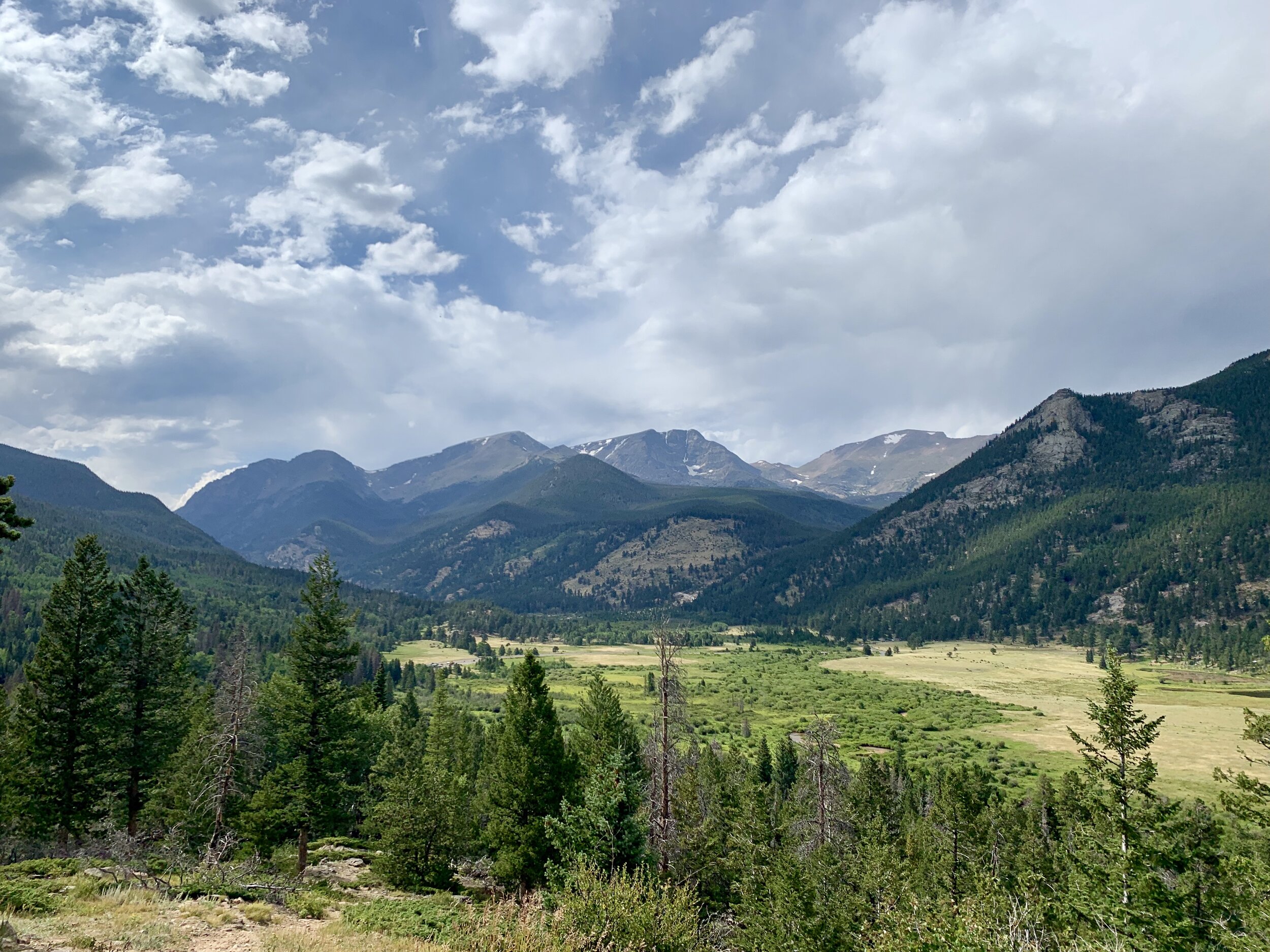 We had our last night booked in Colorado Springs, but I really wanted to go to Estes Park. My husband told me that I would love it there. We ended up reserving a room in Denver instead, as we had to pass through it to get to Estes Park, and we were flying out of Denver anyway. We thought it would be easier on the kids. By this point in the trip, both kids were over the driving. My hubby was right, I absolutely loved Estes Park. We spent most of our time in the downtown area. You can park at the visitor center for free and walk from there. There are tons of clothing shops, dining options, gift shops, playgrounds, a sensory garden, and dessert shops. After we spent a few hours there, we headed back to our car, and drove a few miles to Rocky Mountain National Park. It is massive. I wanted to go to the Big Lake, but it was going to take 2 hours to navigate around to it from the entrance we entered through. The boys were not going to be able to handle that, so we drove to Bear Lake. I expected the park to be more developed like Zion or the grand canyon, but it is not. Also there is absolutely no cell phone reception there. It is a gorgeous piece of land though, and we got to see some animals, which was cool. Ethan got to do the Jr. Park Ranger program once we got to Bear Lake by completing an activity as we strolled around the lake/trail area. It was very special.
Denver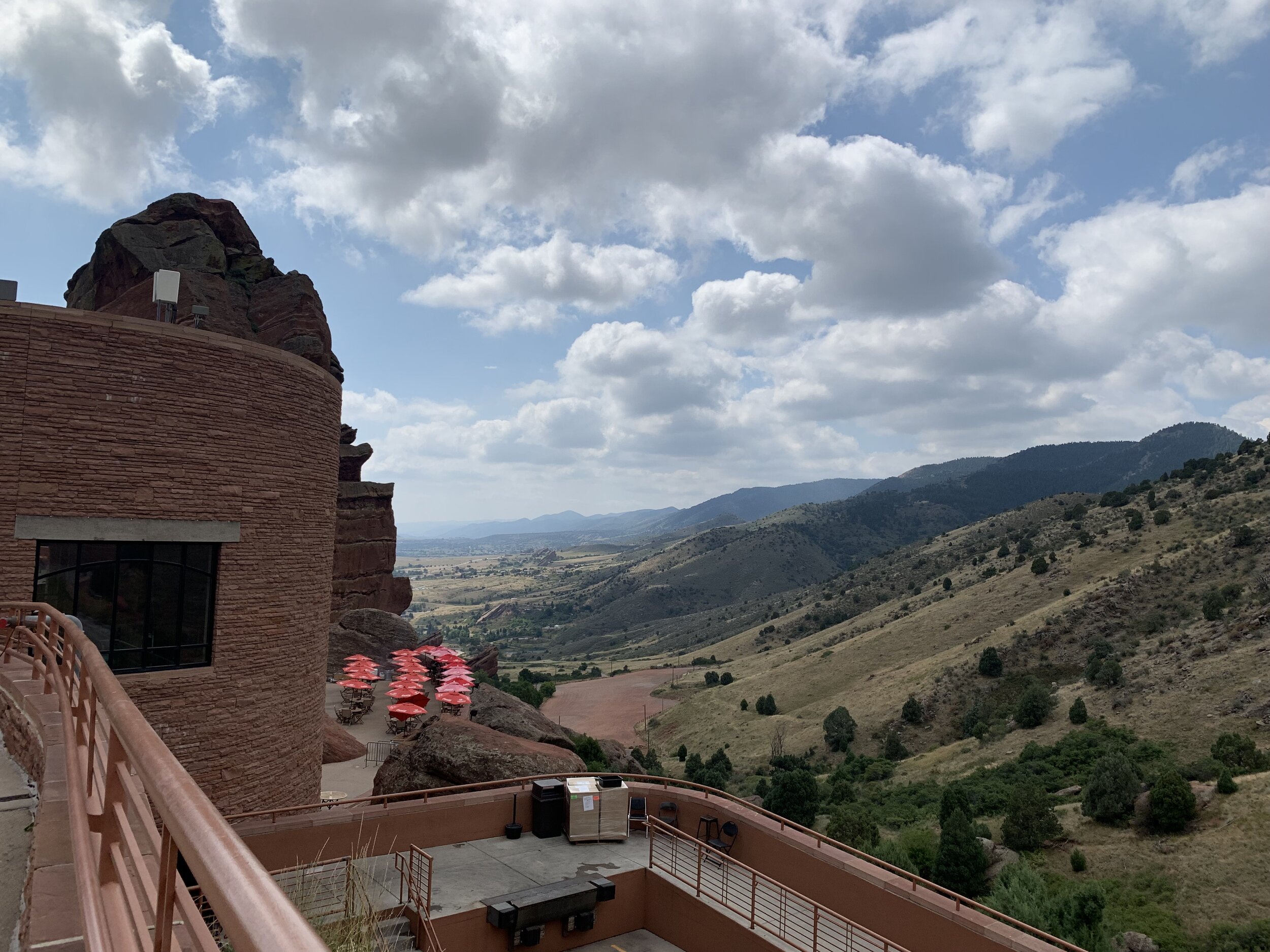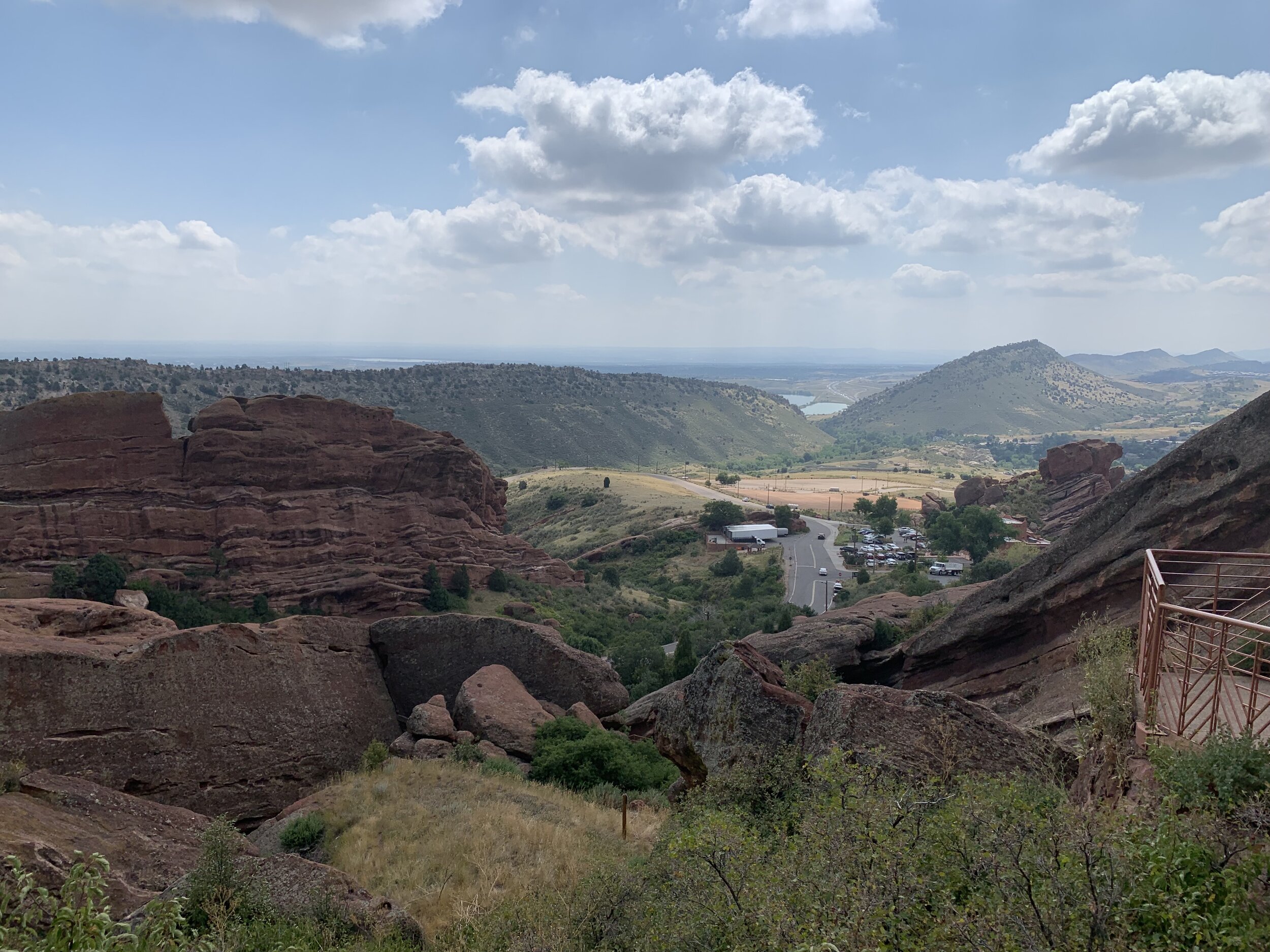 We finished up in Denver. We needed something low key with minimal driving. We started the day playing basketball at the hotel, then we went to this cool place called SeaQuest Littleton. It is an interactive zoo/aquarium, where you can touch all the creatures there. My oldest loved animals, so this one was for him. We got to touch a shark, so strange! I wish we had one of these in Houston. I found this place on Groupon, when traveling, do not forget to search there for deals and ideas for activities. After that, we stopped at the Red Rocks Ampitheater (my pick). It's breathtaking and I would love to catch a show there one day! That's definitely on my list. Did you know they do yoga classes there too? Those stairs though were for the birds, couple that with the altitude and I felt so out of shape. From there, we headed to downtown Denver to eat and shop around a little. It's a cute downtown. The parking is expensive, but I guess most downtowns are. My kiddos loved the pianos.
The trip was exhausting, but well worth it. We all had a good time, and I think we will carry with us the good times and the memorable moments. Traveling with kids is hard and they have they're own plans in mind. Sometimes, most of the times, they do not jive with ours. We had to be flexible, and keep them in mind, but we made it work and made the most with what we could. We will be back to Colorado as there are always flight deals there and there is still so much to see. It truly is a beautiful state.
What's your favorite place or top spot you want to visit in Colorado?
As always, thanks for reading XOXO.