Out of all the trips that I have taken, the trip to Arizona, was one of my favorites. The places we visited were AWEsome and quite breathtaking!
When planning a trip, I like to start by choosing a date range, not exact dates. For this trip, we flew Southwest, which to me, is one of the best airlines to fly on with kids. I go to the southwest site, then search by low fare calendar. I searched arriving into Phoenix, as I know it is a hub, for the entire month of March. (Travel tip: you can get the best deals on flights flying into hub cities, especially when flying from hub to hub). From there I base my dates of the trip around the dates that give me the lowest rates. For this trip, the tickets were $69 each way, WINNING! Typically we fly in on a Thursday and out on a Tuesday.
This trip was a birthday gift to myself. My sister, Mandy, flew in from Dallas to join in, my husband, mom, and Ethan came! Blake had not yet been born by the time we took the this trip (I got pregnant with him later that year). Once we touched down, we loaded up and immediately began to make our way from Phoenix to Flagstaff (approx. 3 hour drive). On the way there, we saw a sign for Montezuma Castle National Monument and thought this would be a perfect place to explore and take a break from being in the car. Bonus as kids under 15 are free. It was very cool and is home to one of the most well preserved cliff dwellings in all of United States. It's called a castle, because it is huge containing about 20 rooms inside. The grounds were beautiful and full of sycamore and cottonwoods trees, among other lush landscaping. This place is stroller friendly, but after being stuck in the car, Ethan wanted to be free and run around.
As we approached Flagstaff, the weather change was DRASTIC! We went from 60 degrees in Phoenix to freezing cold (prob 40s) with tons of snow on the ground in Flagstaff. There are places you can actually stay at in south rim grand canyon, but we decided to stay in Flagstaff, which is 1.5 hour away from the Grand Canyon, due to the need for a multiple room hotel and budget friendly rate per night :). We booked a 2 bedroom hotel room through Sonesta.. (Travel tip: The north rim is only open during the summer from May 15 - October 15).
As we are headed over to the grand canyon, we made an unplanned stop at Marble Canyon. This was like the appetizer to the grand canyon. We were totally amazed at the beauty. There was no fee, just a stop and look place with some descriptive signage providing facts about the overlooks. There were multiple outdoor vendors, mostly local Native Americans, that sold completely handmade items such as jewelry, keepsake boxes, shoes, purses and so on. These were mostly cash only from what I remember and the items were gorgeous!!!! I got a cool feather for my hair and cute earrings.
As we roll up to the grand canyon, I felt like a giddy pre-teen about to meet her favorite pop star (best analogy I could come up with ha). All I can say is that the Grand Canyon was WOW!!! The snow covering it was the icing on the canyon, it made it all that much more beautiful. Once you get there, you can literally plan an entire day or more of fun there, it has everything, including multiple places to dine. If you are planning to stay on top and not hike down, it is totally stroller friendly. There are even guard rails lining the pathway. The weather was not as cold on the day we went there (March 3), but we still needed a jacket. Next time, we go, I think I want to stay at the El Tovar. It is located within South Rim of the Grand Canyon grounds.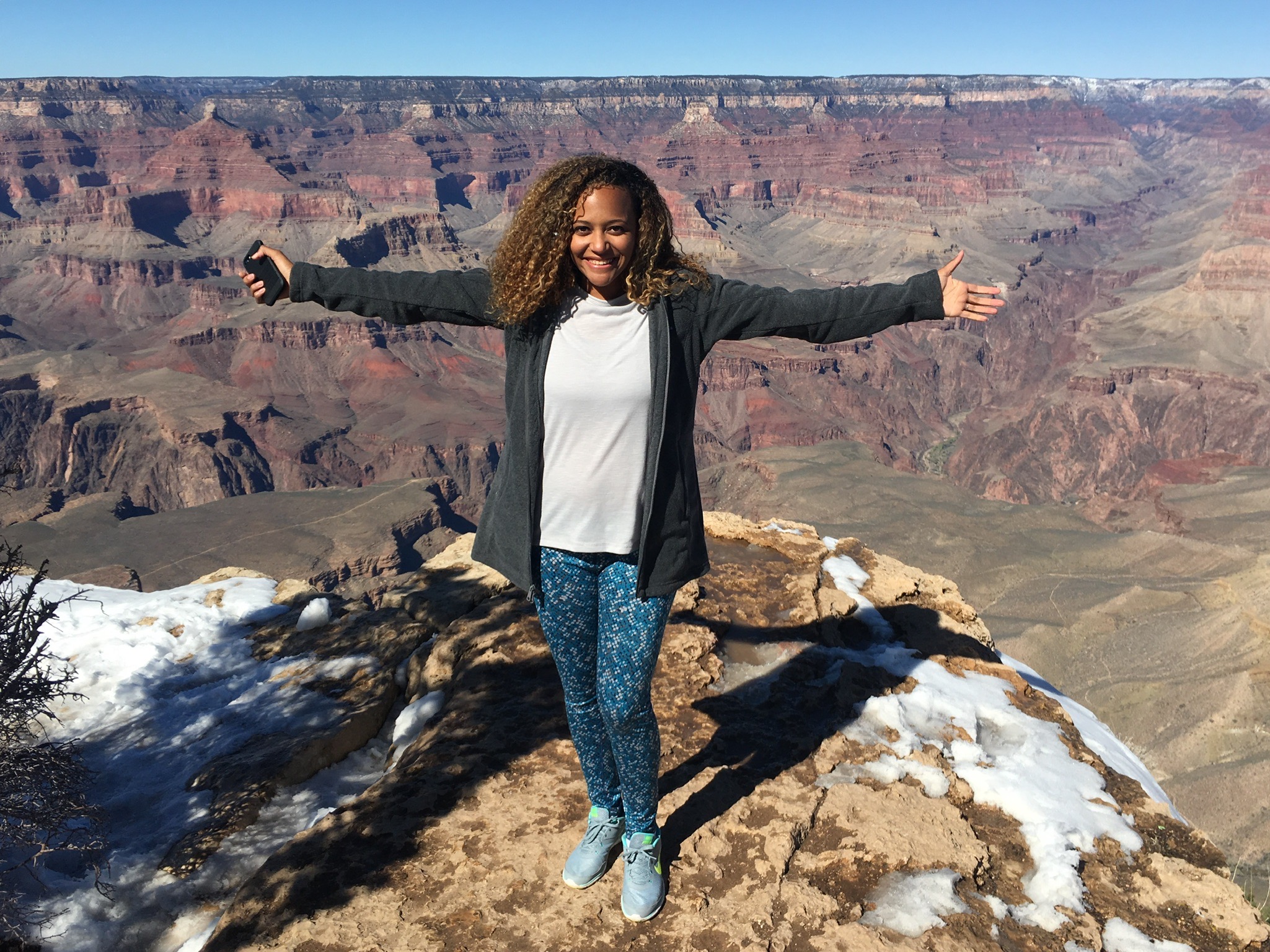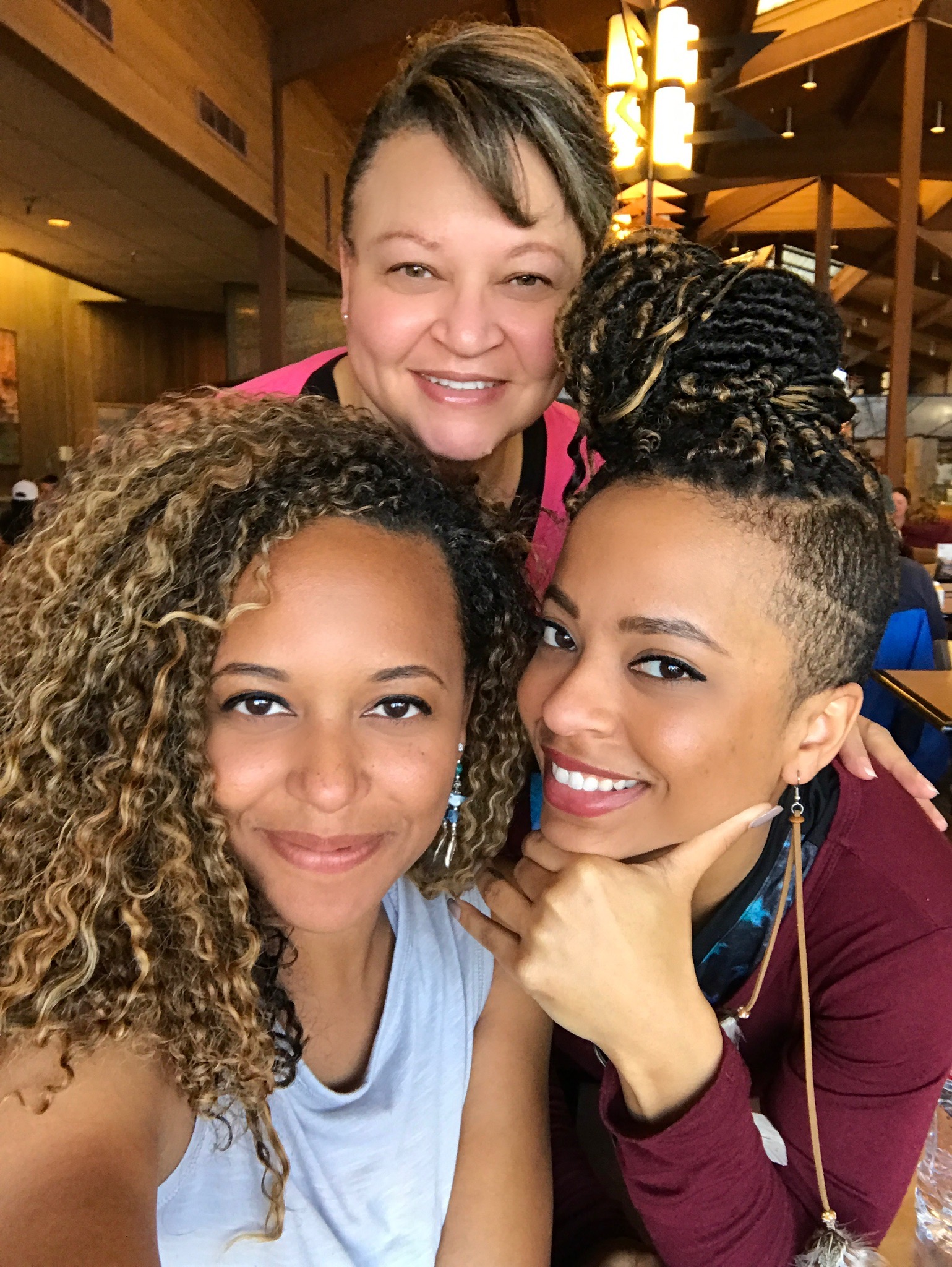 Make sure you stay until sunset, it is magical!!!
This trip, I really wanted to checkout Havasu Falls, but it is a strenuous hike down that is probably better for no kids or older kids. Check out pictures of there here. There is a helicopter option but priority is given to the local natives of the area first.
The next day we headed to Page, Arizona to see Horseshoe bend and the slot canyon. It was a 2 hour trek (by car) to Antelope Canyon. There is upper Antelope Canyon and lower Antelope Canyon. It was hard to decide between the 2. Upper is the most popular and has sand falls, and beautiful light beams. This is the more photogenic canyon, but it is also more expensive and harder to get a tour due to its popularity. For both, you have to schedule a guided tour and there are 2 companies who conduct these tours - Ken Tours and Dixie Ellis. We went with Dixie Ellis and decided to do the Lower Antelope Canyon. The deciding factor is that we mostly hoped to have smaller crowds and wanted to take advantage of the lower costs. One day we will go back to do Upper Canyon. They are both kid friendly, but the kiddo has to walk or must be worn. The Lower canyon was fun, it had lots of narrow spots and areas where you had to climb up or down (via ladders). While we waited for our tour, we had snacks at the check-in center. The tour was approximately an hour and our tour guide went the extra mile by helping us all get the best shots of the canyon (I only had my iphone). This place is a MUST SEE!!!
Within a few miles from here (we actually passed it on the way to Antelope), we stopped at Horseshoe Bend. There was no fee, you simply drive up, park, and look. There are no rails and getting close to the edge was terrifying for me! I am so scared of heights. I was able to get close enough to get a few "money shots" though. If you have a wild child who loves to run and is totally fearless, beware. It's a long way down. It was cool to see below the boats pass by. You are able to take a tour if interested around the bend as well.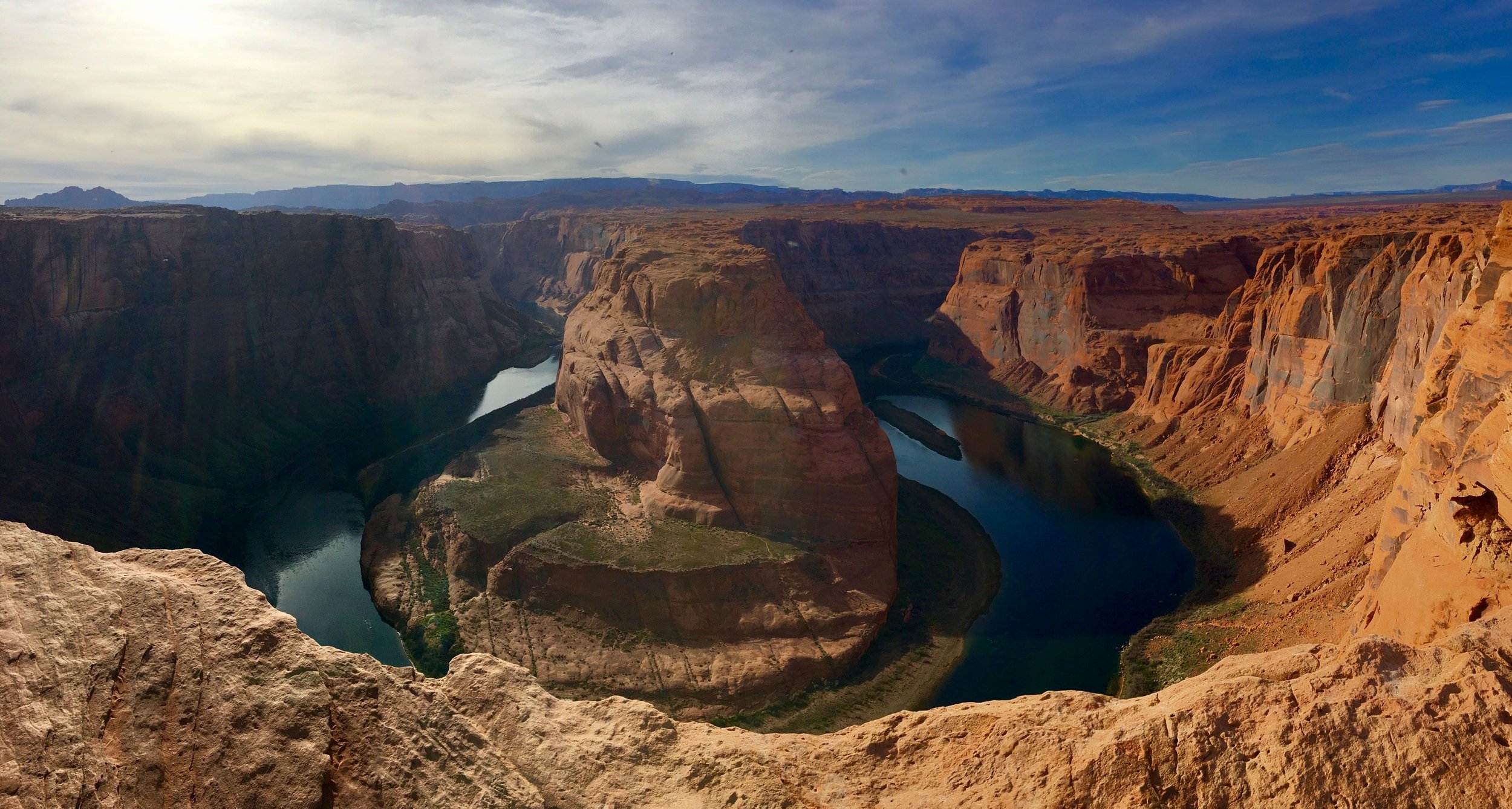 While driving, there were some awe inspiring sights, so we stopped, took it in, took pictures, then went back on our way.
The trip continued on to Sedona. We stayed one night at the Courtyard Marriott (I highly recommend this hotel, beautiful courtyard). I think Sedona deserves an entire trip of its own. We compacted as much as we could into the day we spent there. In Sedona, among the beautiful red rocks, there are these things called "Vortexes". We checked out Bell Rock and visited the vortex site (all are easy to get to) and I can say I felt energized. That could have been partially from the adrenaline running through me as I experienced a new place, or it worked. There are tours dedicated to these. We attempted to stop at all the most notable rock formations. It is best to wear the baby/toddler or allow them to walk with close supervision. Bell Rock is the easiest trail of the rock formations. We dined and shopped at Tlaquepaque Arts & Craft Village.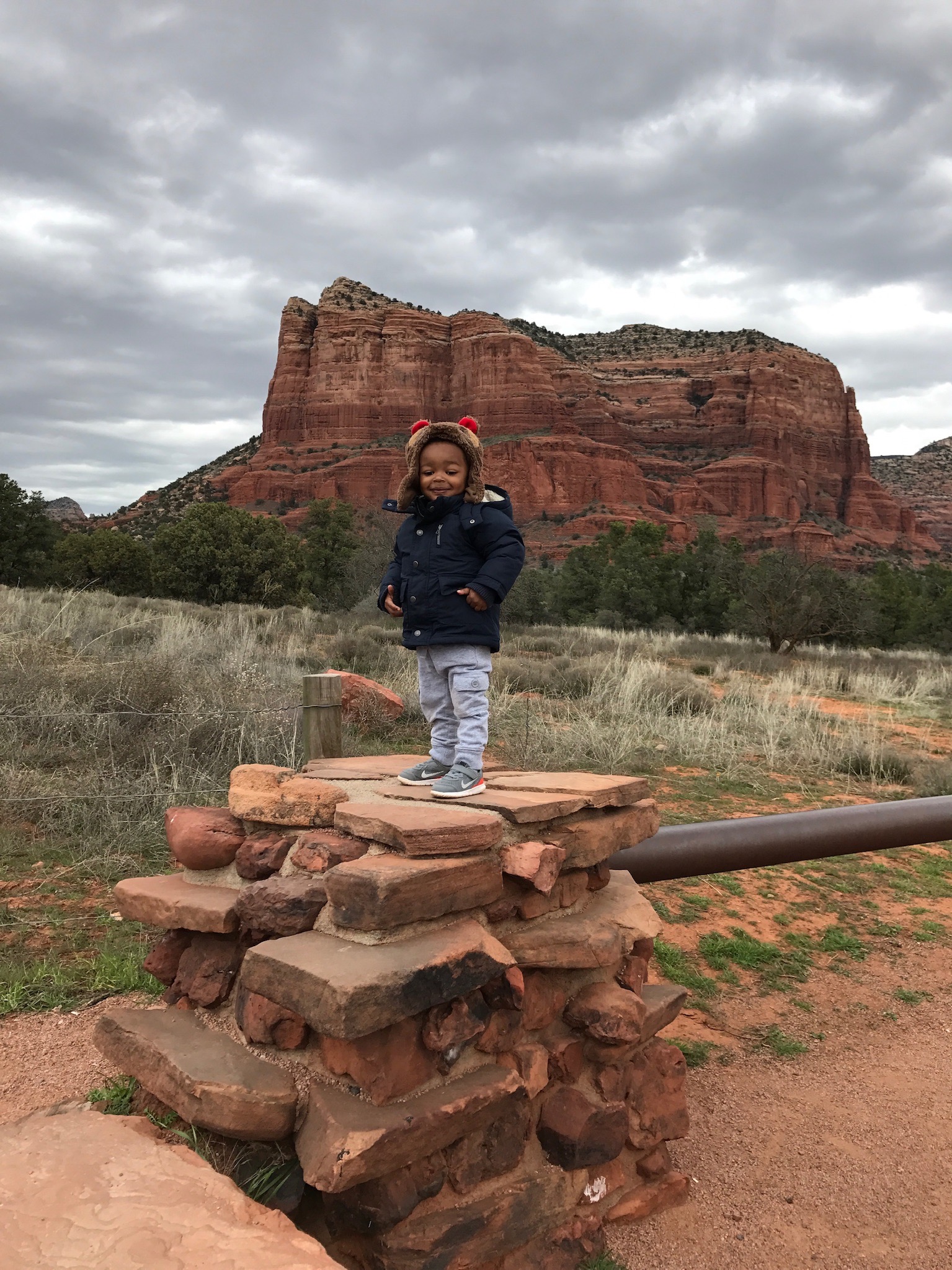 We finished up the trip heading back down south the Phoenix. I am typically more biased to Marriott, but I found a cool Hilton Resort with tons of activities on property to partake in - lazy river, golf, resort pool, basketball and tennis courts, family friendly dining options, and list goes on. They also have multi-room casitas, which was important for us as we were traveling with additional family. It was cooler than expected for early March, the temperatures peaked up to 70s, so we did enjoy some pool time.
On the last day, we went to Old Town Scottsdale to eat and shop. It was the perfect end to an incredible and adventurous trip. Ethan ended on a high note finding himself a cool new toy in the local toy shop to bring back home with him.
This was a long post, but I appreciate you sticking around to read it all. I'd love to hear your thoughts!
XOXO