My oldest son, Ethan, was born to travel. While pregnant with him, I flew a ton, multiple times a week, and had no issues. My other son Blake…that's another story for another post. Let's just say he is not a fan of being in anything that goes – car, bus, plane, etc. – and I realized that from the moment I got pregnant. So, for Ethan, instead of having a birthday party when he turned 2, we decided to take a trip to New Mexico. We did it just before his birthday to take advantage of the free travel. If you do not know, airlines do not charge for flights for kids under the age of 2. You must bring a birth certificate or similar document to show proof of age and they will provide you with a lap child ticket. Some parents opt out of this for a flight and purchase a seat for their baby (utilizing an airline approved Child Safety Restraint) but Ethan liked to sit in our lap and look outside the window.
New Mexico is a very small state, so for this trip, we were able to do multiple cities over just 5 days. We flew on Southwest Airlines to Albuquerque. I am a fan of National Rental Car for many reasons – 1. It has a large selection of vehicles 2. If you sign up to be an Emerald Club member, you get the benefit of selecting your vehicle if you book the midsize rate and above. So typically, a midsize vehicle is an Impala, but emerald aisle selections vary widely from corollas to explorers. We selected a Jeep Grand Cherokee from the aisle choices at the same midsize rate. 3. All you have to do is show ID (card is already on file when you set up an account) at the exit kiosk and boom, you are on your way.
We headed straight down to White Sands National Monument. It is in Alamogordo, NM, which took us roughly 3.5 hours to get to from the ABQ airport. We did stop to grab some sandwiches and snack so that we could picnic in the dunes. When we arrived, all I can say about this place is WWOOOOWWWW!!!! It is elevated at 4,235 feet and is comprised of gypsum crystals. This dune field is the largest of its kind on this entire EARTH, right here in the US. When you arrive, you must pay an entrance fee of $5 per adult (kiddos under 15 are free), unless you have a national parks and federal recreational Land Pass (which is $80 per year). I do believe in 2019 the fees are going up to $10 per adult. They provide you with a map and we purchased snow saucers for sledding. They were available for a very small fee. I cannot recall exactly, but I believe it was less than $15 for 2 saucers. We went on a weekday, so the park was quieter. There is a sandy, but paved road, that you can easily drive your vehicle around on. Just make sure you stay on path, we have gotten a vehicle stuck in sand before (in Pensacola, not fun). The first place we stopped at had a beautiful board walk, that was stroller friendly. This is the only path that is stroller friendly in the dunes. It gives you amazing views of the mountain range in the distance and views of seemingly never-ending fields of sand. From there, we dusted ourselves off, and hoped back in the car to find a good spot for sand sledding. This was our first actual contact with the sand, and let me tell you, it was HOT. We opted to take our shoes off. We put Ethan in closed toe sandals due to the hot temperature of the sand. Sledding down the sand hills was exhilarating. Ethan even took a slide down on his own, with supervision of course. There are covered picnic pavilions near the parking area that we took advantage of for lunch. There is about 16 miles of road round trip, so due to the heat, we ended up spending the remainder of the time in our car driving around, stopping for pictures, then hopping back in.
Lesson learned:
Do not go in August in the middle of the day, nor on a windy day

For small non-walking babies, bring a carrier

Bring lots of water; it is very dry

The sand loves you so much, that it's hard to get rid of. I recommend bringing squirt bottle with water to spray your legs & arms, towels for drying, and plastic bags for sandy shoes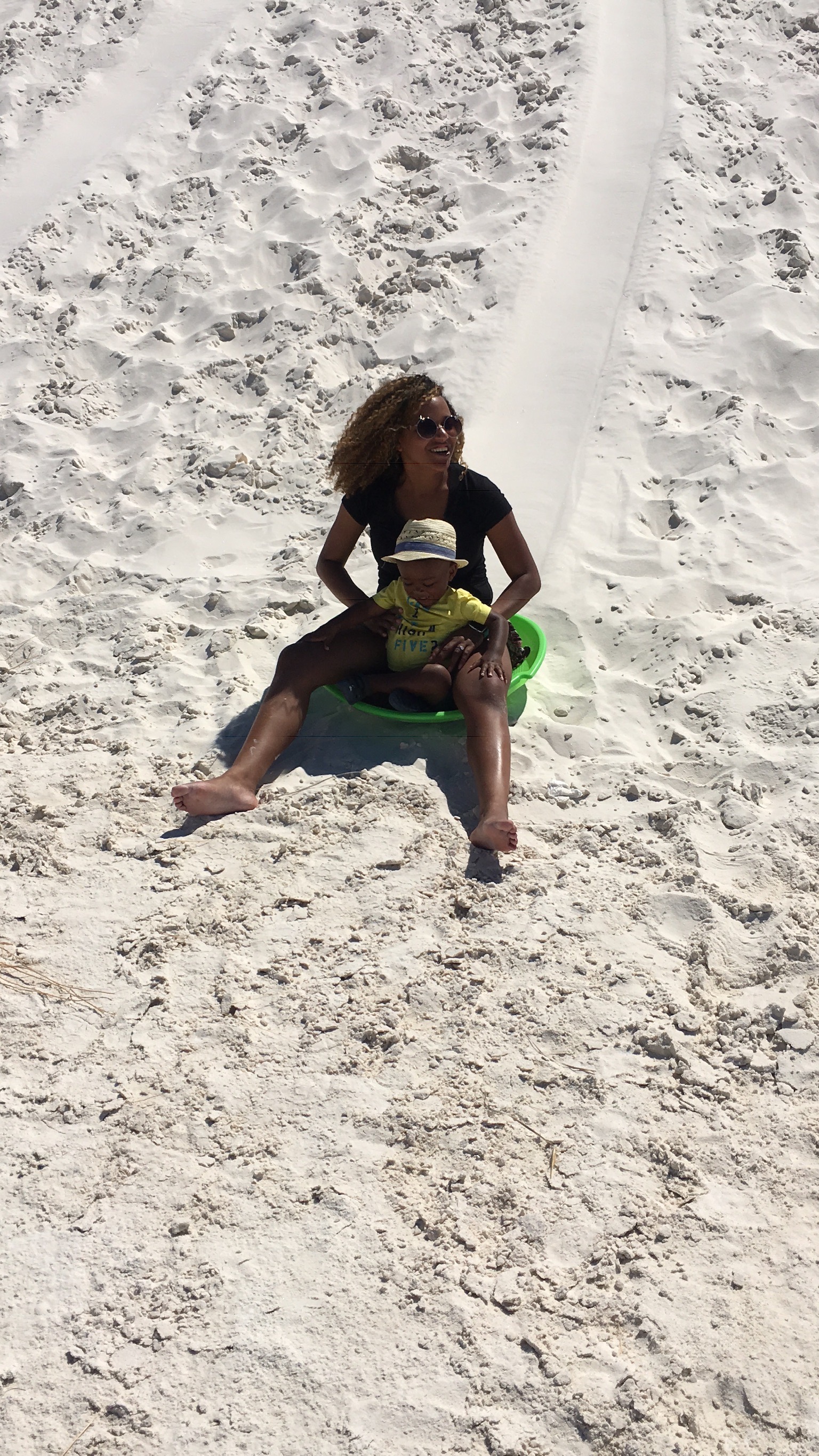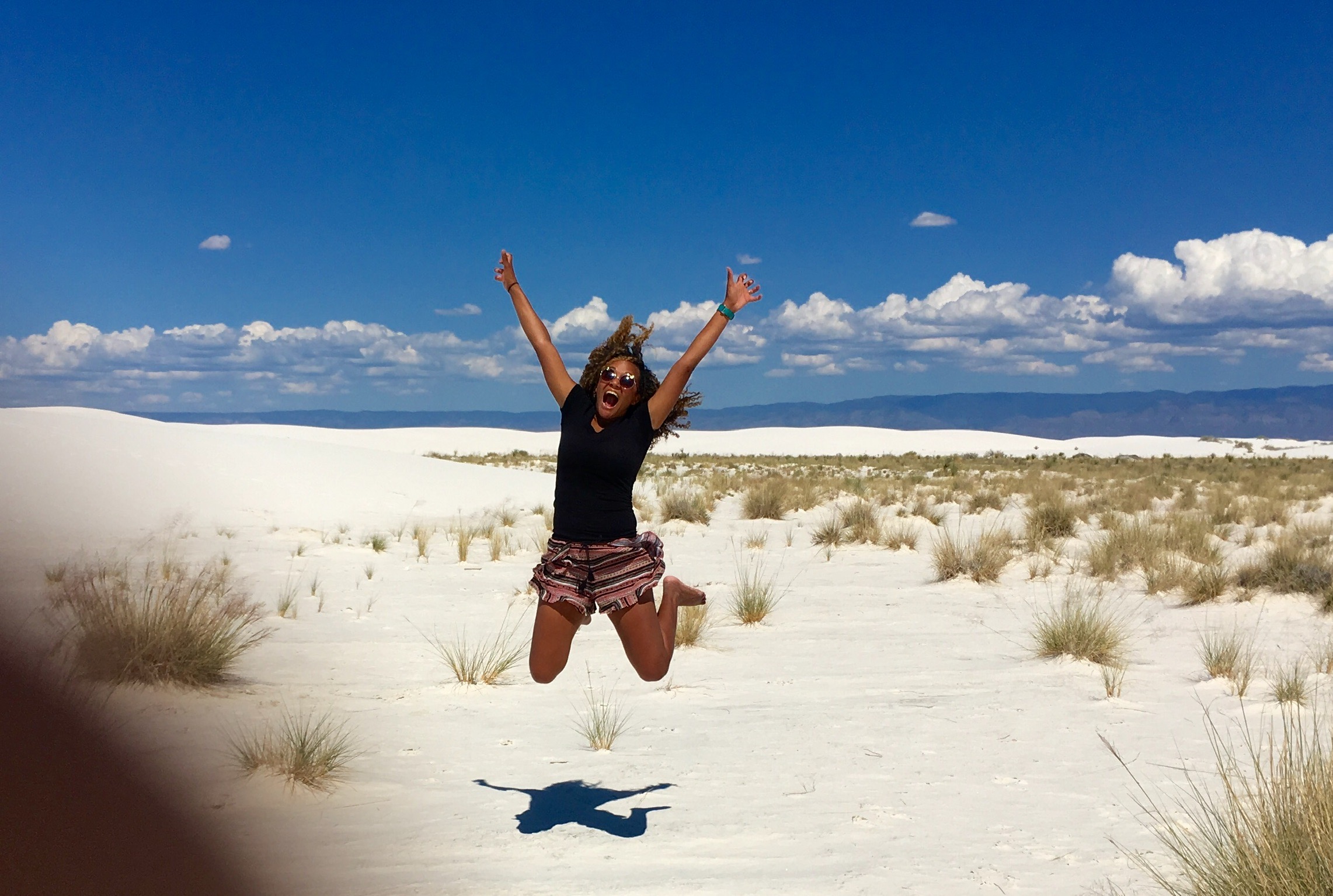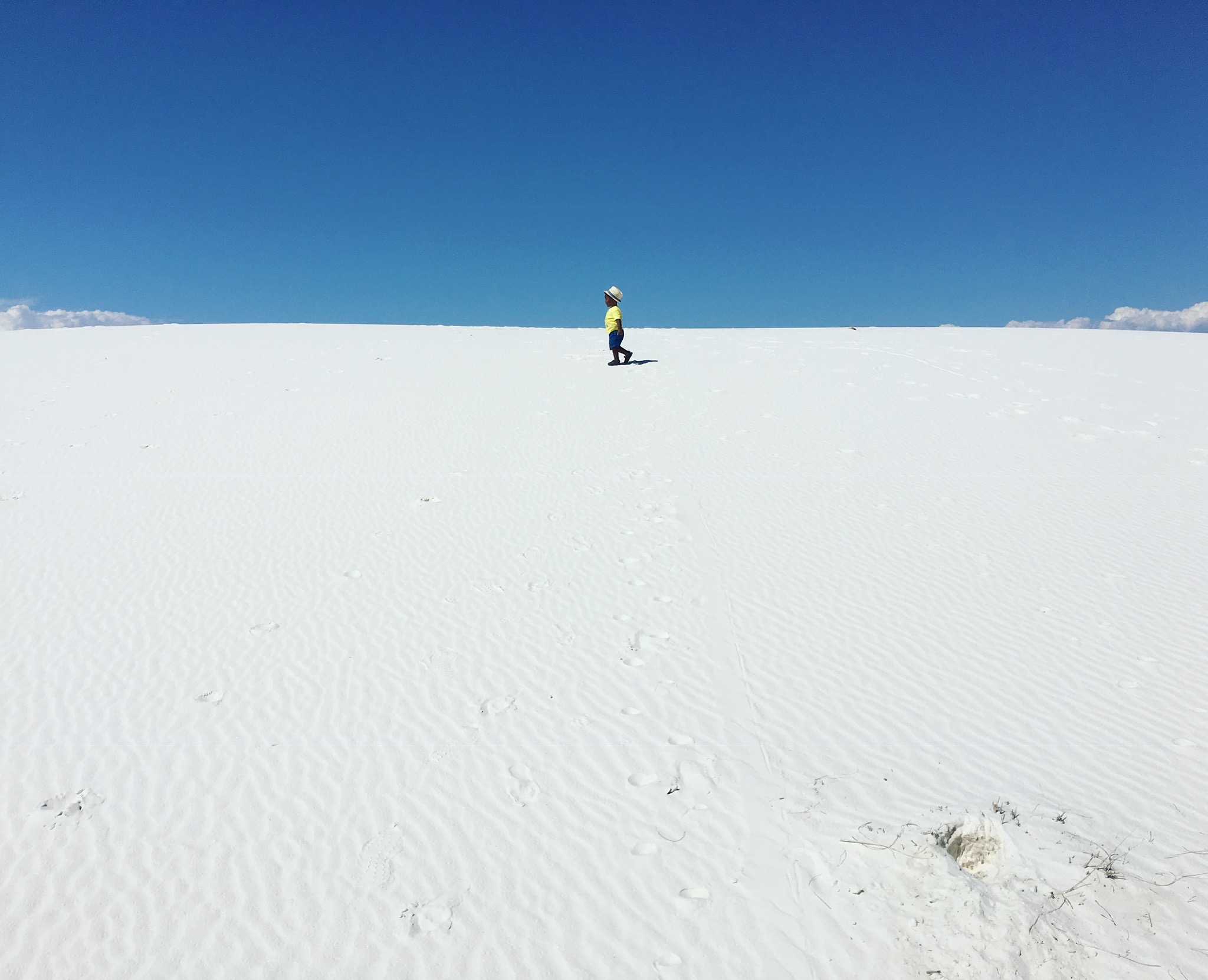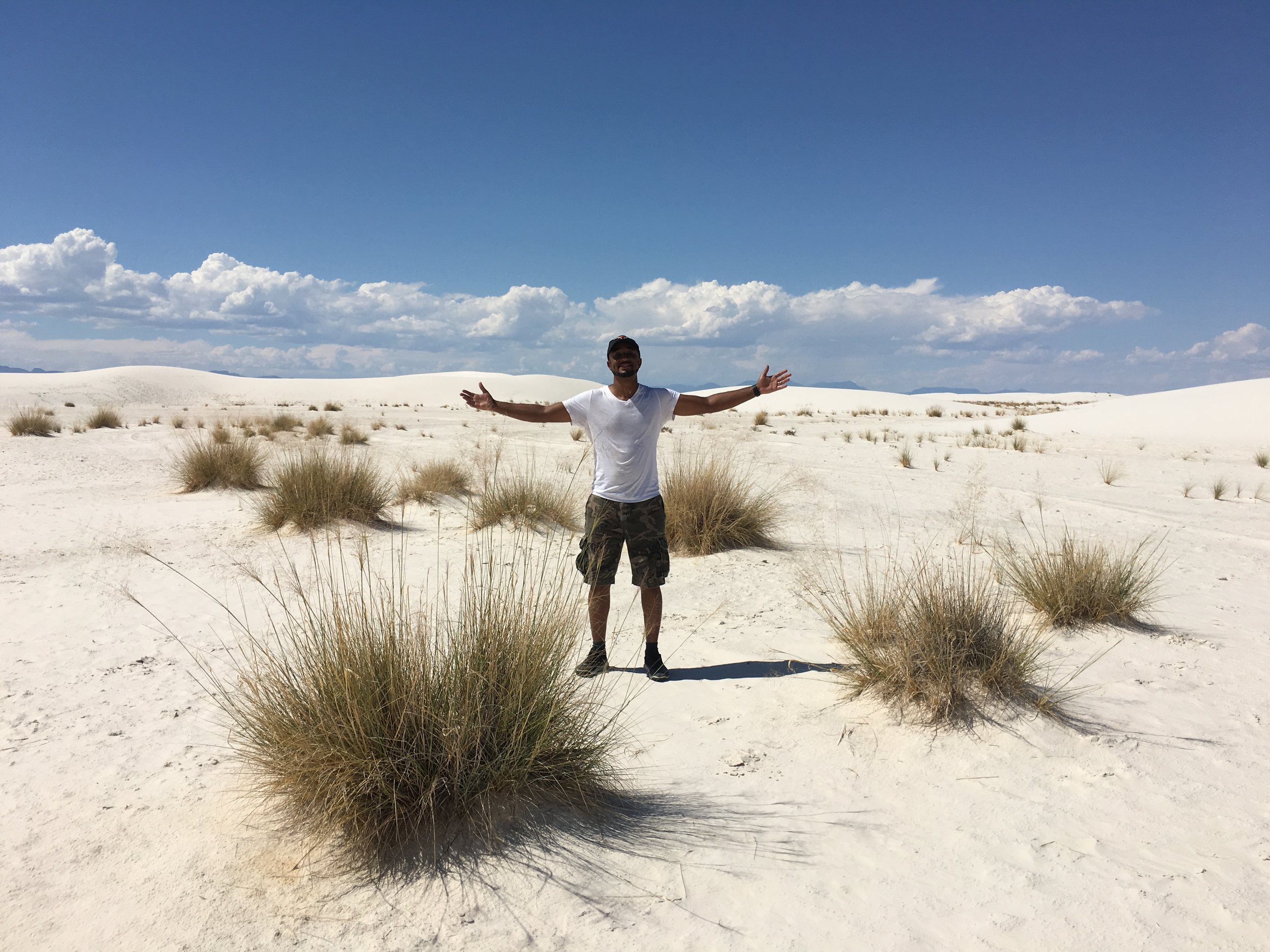 We ended up staying at a nearby Resort called Inn of the Mountain Gods. It was an uphill drive from the White Sands National Monument, that took an hour to get to. There are closer hotels, but this Resort is beautiful. We got a 1st floor room that was right on the golf course with views of the lake. Since we had the baby, we wanted some place where we could entertain ourselves without having to spend too much more time in the car. They have a casino, restaurants including a buffet, gorgeous resort grounds, pool, lake activities, and nearby hiking trails. We got a very low rate for overnight stay; $110. After Ethan went to bed, Paul and I grabbed a drink and relaxed on the patio and enjoyed the beautiful views of the resort.
We live in Houston, which is right at sea level. We are not used to the high elevation. My husband and I were able to adjust, but Ethan struggled. He has had allergy induced asthma issues since birth. Thankfully we did pack his inhaler and used it as needed to help open his lungs.
Lessons Learned:
Do not push your stroller on the golf course :), they will come get you.

Bring a jacket as it is cooler at this higher elevation
We were off to our next adventure, so we trekked (by car) to Albuquerque. On the road from the resort to ABQ, we passed quite a few national & state sites/parks. We stopped at one called Valley of Fires. There was no fee and it had a boardwalk out into the field that allowed us to push the stroller. The park is full of molten rock that has various flowers, cactus, and trees within the rock.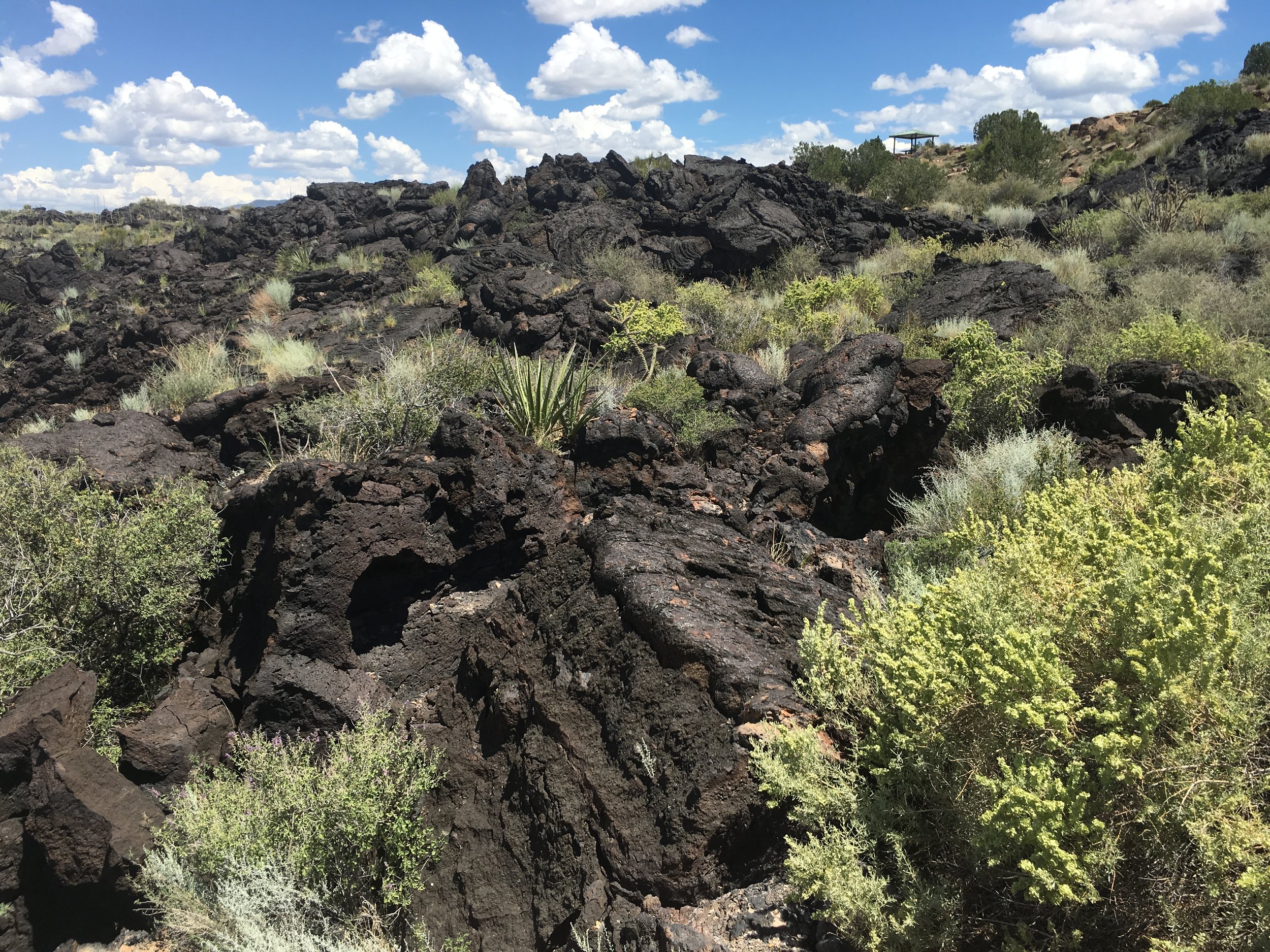 My brother, his wife, and niece live in ABQ, so that was the bonus and the main reason we picked New Mexico. My mom flew in to join in on the fun as well. My boys call her Bubbie. We got to spend time with family, ate good, went to a minor league baseball game courtesy of my sister-in-love, visited the Indian Pueblo Cultural Center, and my absolute favorite thing was the Sandia Peak Tramway. The Tramway was another activity where kids are free, under the age of 5, so this was another win! Adult prices are a bit steep (you will learn that I am very frugal 😊), at $25 a person for roundtrip ticket, but if you eat at the Sandiago's grill, which we did, you get $5 off your meal. The ride is 15 minutes each way and you are going up over 10,000 feet. Once you get to the top, you can stay up as long as you want and enjoy the enchanting panoramic views of the valley. The other side of the peak is a ski area, but we were not going to partake in any skiing in the middle of August.
Lessons Learned/Tips:
Do it anyway, even if you fear heights like me, it is WORTH IT.

Make sure you smell nice; the tramway cars are packed tight with people.
The next day we went to Kasha-Katuwe Tent Rocks National Monument. This was the most EXTREME hiking (mind you, it was not really extreme for an experienced, well-prepared hiker), that I have ever done. I ALMOST DIED…getting to that part in a few!!! It's about an hour north from where we are staying, a bit closer to Santa Fe. There are cone shaped formations and has 3 trail options. We picked the 1.5-mile, one-way trek Canyon Trail. This is the most difficult of the three and it takes you through a narrow slot canyon and up to the mesa top. As difficult as it was, it was BEAUTIFUL trail from beginning to end, especially at the top. You can see all the ranges of mountains and the valley. We did not have our hiking carrier, but we did bring the ergo baby 360 carrier (bad idea). There is a wheel chair accessible trail that would allow for a stroller, but this one is definitely not stroller friendly. When we went through the narrow slots, we could not even have Ethan on our back due to the small width. Here is where things get interesting. There was one extremely uphill part with lose gravel, this is where Paul and Ethan could not continue. It is a narrow and curved area, that is just the last big feat before you get to the top. BUT one slip or mis-step, could have you off the ledge. Coming down, I had my niece with me, age 7 at the time, and our feet were slipping on the loose gravel; we froze in panic. At this point, my whole life flashed before my eyes and I did not know how I was going to get us down. I was trying to pretend to be ok for my niece, but I do not think I did a good job at that. Thankfully some experienced hikers were headed down with my mom and they helped us down around the curvy narrow edge. It is important to note, they had hiking sticks and proper shoes. After the brush with death, downhill was an easy trek as we knew what to expect, as it is the same trip coming, but backwards. We stayed with the experienced group all the way to the end.
Lessons Learned/Tips:
Bring a real hiking carrier, similar to this one: Clevr Cross Country Baby Backpack Hiking Carrier (ours is discontinued)

Pack light, but a water canteen would be helpful, especially if you go during a hot summer month

Wear shoes with good traction, bring a hat, and hiking sticks would be helpful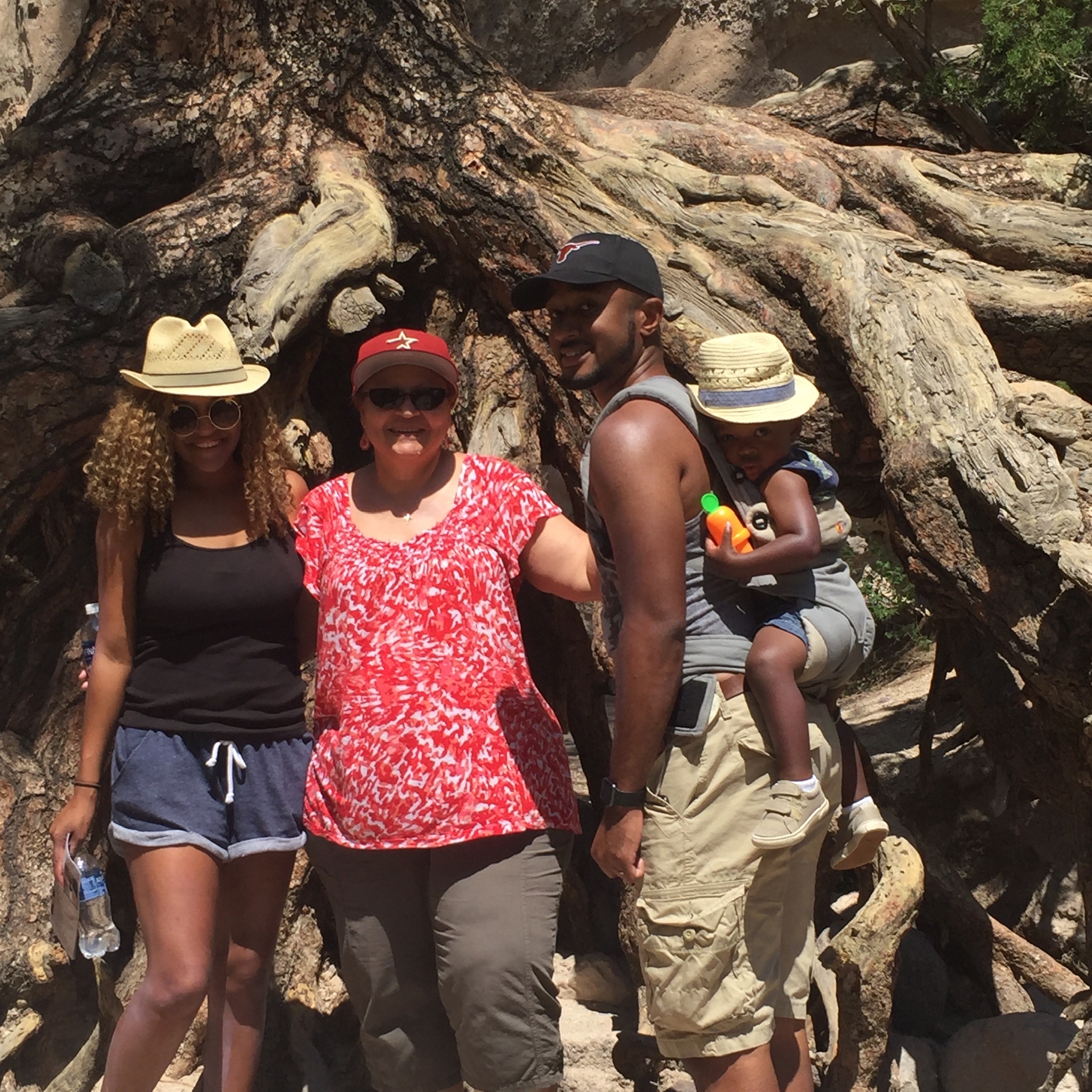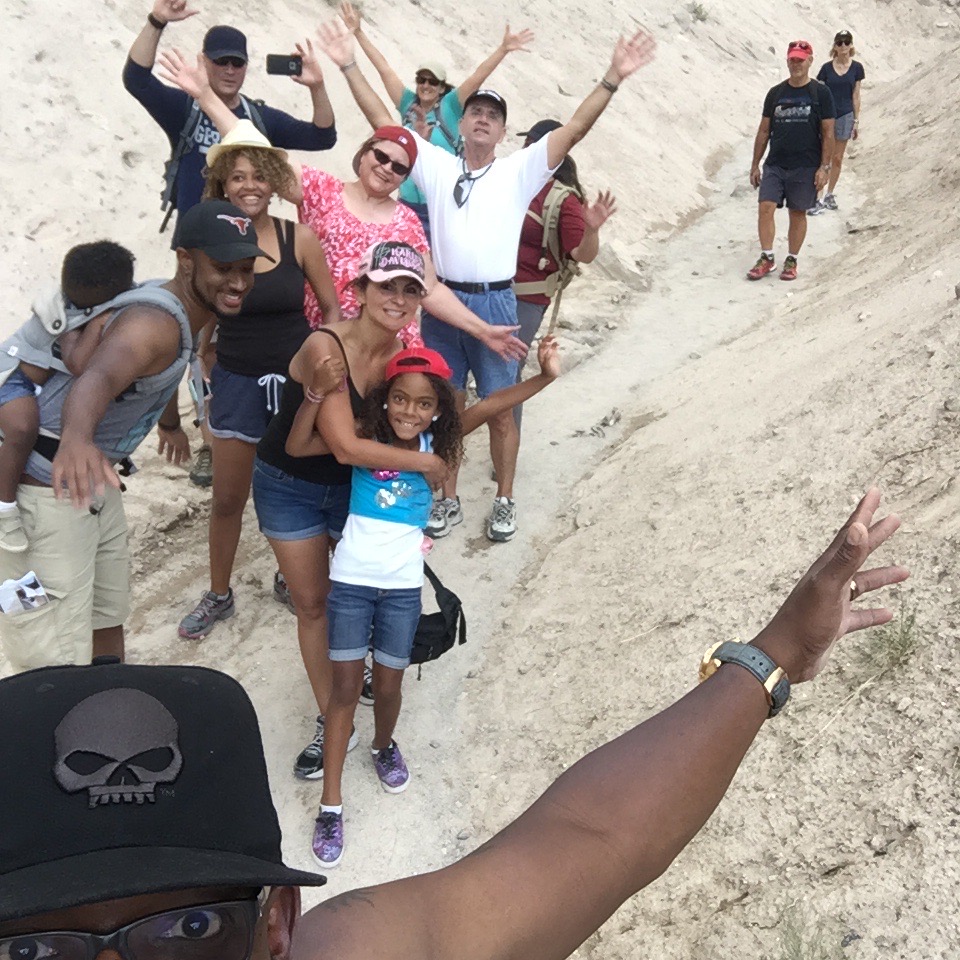 The last and final day of the trip, we went to Santa Fe, NM. It took a little over an hour to get to from ABQ. This was a lot of driving for Ethan, so we tried to keep it fun with…the tablet (no judging please haha). The amateur artist in me, was in heaven! We spent most of our time on Canyon Road, but also ventured to Santa Fe Railyard for lunch. There are several art galleries in this area and they are free to visit. There are several parking options when you get to downtown. When Ethan was over the museums, he spent time at a local café with his Bubbie and ventured to a park in the area. There is a magical church called Loretto Chapel, that has a unique spiral staircase built by an unknown person who disappeared, some believe it was built by an angel. It is worth the visit! It is also free (donations welcome).
Lessons learned:
Bring comfy shoes for walking

Bring the stroller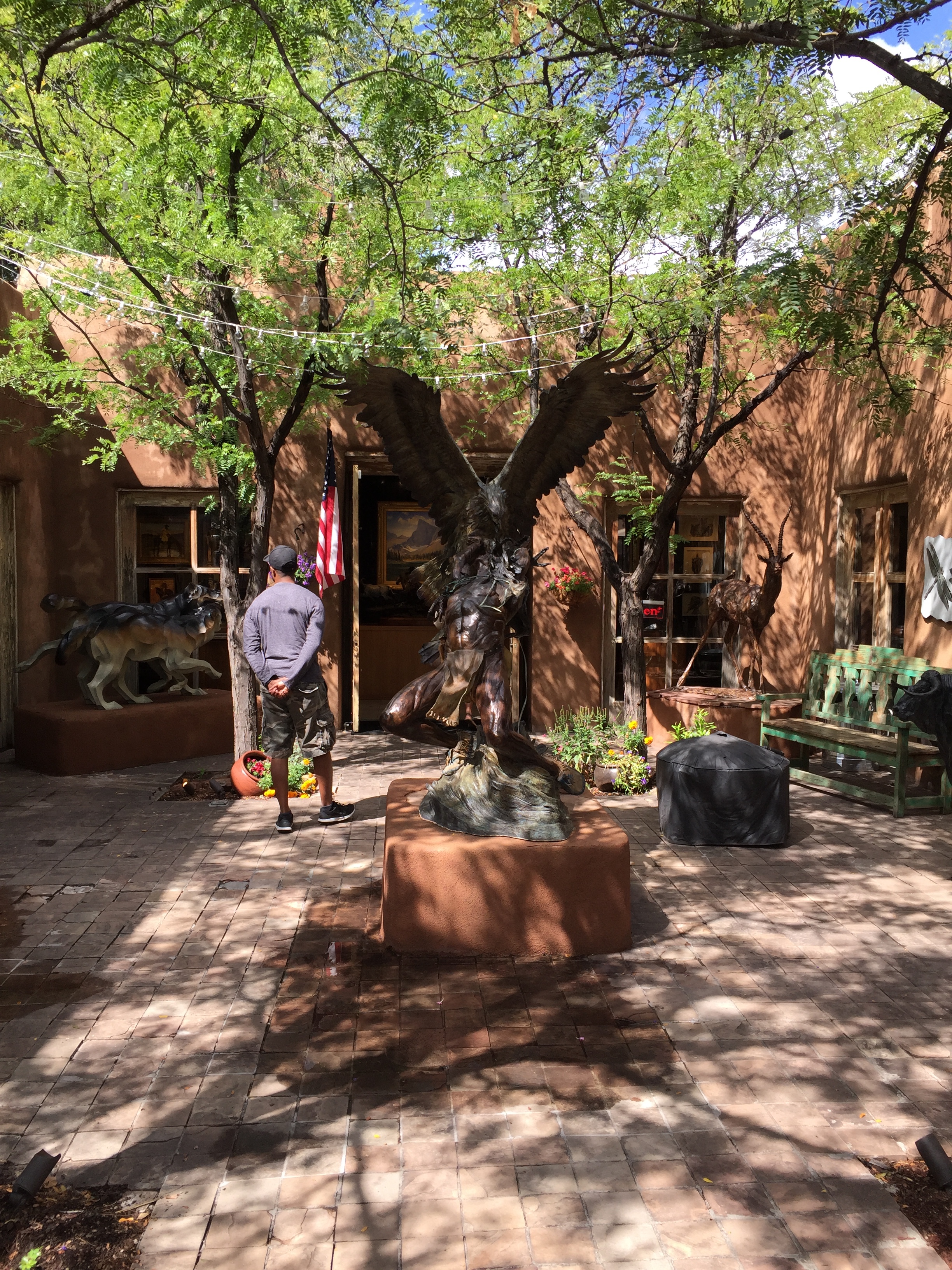 We spent our last and final night at Hilton Buffalo Thunder in Santa Fe. The rates were low, under $150 per night, and the grounds are beautiful. I love the New Mexico architecture; its pueblo style.
We drove back to ABQ and flew back to Houston. I cannot wait to go back, to see my family and I would love to see the Hot Air Balloons during the festival. There is so much more to do in this beautiful state. Another bonus, the dry weather was amazing for my hair! We compacted a lot in 5 days, but that's how we roll! We believe in making the most of our trips and usually need a day off before returning to work to rest from our vacation.